Thank you for raising this, @Stella - Our little town certainly does things so I'll check what's happening tomorrow…
Ceremony in our village at 1030 as usual.
11 ish. But congregating at the church in the square, before moving off following 2 standard bearers to the memorial 50 metres away.
The first ever time I went, 20 years ago, I had Lira the Greyhound with me and we were both accepted without question. Then to the salle for the vin d'honneur and was reluctant because of the dog. Again people were at pains to welcome us both. In those days there was a lot of alcohol on offer and I needed the dog to lead me home.

Later, when Fran joined me, she sat outside the salle to smoke, the last time, this year, because of covid, only half a dozen of us and no follow up in the salle.
Tomorrow, of course, I will be on my own. Even if I could get her out of the house she wouldn't be able to leave the car.
I was on my own in a different way, after years of at least 8 of us, I was the only Englishman there.
But there was a good turn out, in contrast to May, at least around 30, and the vin d'honeur was back on, and how. For several years in place of the whisky, port and other liquid delights, there has only been weak kir, cassis or peche, today the same but a lot stronger. Much stronger than I am used to in the routiers (it is the traditional apero of lorry drivers) and I asked my neighbour Thierry, a local councillor, if he had mixed it. With a twinkle in his eye, he admitted it.
Nevertheless there was lively conversation with some of the locals, mainly about dogs and wild animals, and, although I made it home ok without the assistance of a dog, I decided it might be best not to risk myself with 2 of them in the forest afterwards.

Good turnout for our tiny village… 30 people attended with French/non-French equally shared.
Glorious sunshine and no wind… so, for once, it was a real pleasure.
Of course, I always shed a tear when the names on the Memorial are read out… so many families lost nearly all their menfolk…
Flags lowered and raised, rousing music… and we had 2 lots of 1-minute silence… first was for all those fallen in Wars and conflicts … and later in the proceedings we had the second 1-minute silence for the Hubert Germain…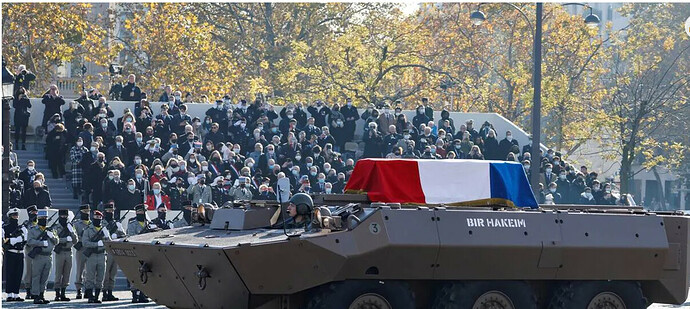 https://www.ouest-france.fr/culture/histoire/guerre-14-18/direct-video-commemorations-du-11-novembre-suivez-la-ceremonie-et-l-hommage-a-hubert-germain-3777e674-42c5-11ec-ac74-5bf2c2ef6023
I've been working today so didn't see whatever commemorations were taking place in our town. However during lunch I watched the ceremony with Hubert Germain, the last living Companion of the Order of Liberation, being buried in the crypt of the Mémorial de la France combattante. It was very moving.