A few pistes de réflexion from me re the 2022 Presidentials…
In the coming weeks I'll try to "passer en revue" (to examine, to review) the current state of the parties competing in next year's elections (10 & 24 April 2022) as well as the already-declared candidates (Marine Le Pen, Xavier Bertrand etc.) + the putative, potential and fringe candidates.
As in 2017, all the main parties will be represented (with the notable addition of the Parti Communiste, absent from the last two presidentials, as well as EELV, the Greens, who last time pulled out two months before election day) and a dozen candidates should be on the starting line when the campaign starts proper circa September, but most parties will be active this summer (Universités d'été in August for most parties etc.).
To kick-start the topic: Macron & LREM.
It could be argued that Macron's surprise election in 2017 happened on a "malentendu" and a good dollop of fluke. The planets aligned perfectly for Macron as he benefited from the centrist Bayrou's pulling out (after striking a deal with Macron); benefited from the cataclysmic meltdown of the Parti Socialiste, with François Hollande ending his term on record impopularity ratings of 4% (Le Monde, Oct. 2016: Seuls 4 % des Français sont satisfaits de l'action de Hollande); from Fillon's collapse in the voting intentions from the end of January 2017 (when the investigative weekly Le Canard Enchaîné serialised its damning revelations, which in passing are bound to have come from s.o who knew the Fillons extremely well and had a huge beef against F. Fillon; the names of Dati and Sarkozy were mentioned, both had solid reasons to torpedo Fillon's political career and land him in bother with the law as a bonus).
This time round, no "malentendu", no more hollow promises of a "nouveau monde", the Macron novelty has worn off, people know what's in the tin and that could be Macron's undoing. In addition, poor results in recent local elections, the Municipals last year and the Regionals-Departmentals just gone, have hurt.
It is a new party and therefore is not well established locally but some particularly dire results worry the top LREM brass, which explains Macron's total lack of comment post election, it clearly is an embarrassment for LREM.
On the other hand, local and national elections are very different beasts in France and Macron's popularity ratings, bar one of two hiccups (particularly the Benalla Affair in summer 2018, in the aftermath of which Macron lost 15 % points, which he then very slowly regained, and the Gilets Jaunes jacquerie a few months later), have held well, eg this recent poll: Emmanuel Macron : sa cote de popularité grimpe à 48 %.
However, good popularity ratings taken in isolation don't necessarily translate well in a Presidential with another 10 candidates on the starting line. But he knows that he can hit the mid-20s and therefore make it to the 2nd round.
One potential banana skin too would be to have Xavier Bertrand as the Les Républicains candidate opponent,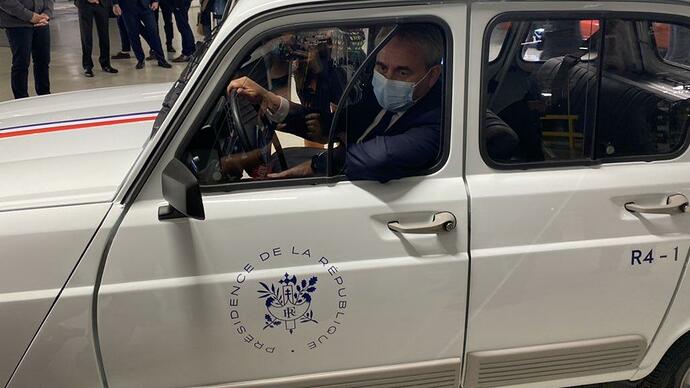 The campaign has already started for X. Bertrand (pic above, taken yesterday), he's been driving a "presidential" 4L… (this electric 4L, made in a Renault factory in Douai near Lille. Macron is supposed to visit the factory soon and and the Renault boss has had a 4L marked "Présidence de la République" to welcome Macron to the plant. Bertrand saw a photo op and cheekily stole a march on Macron…).
(Bertrand being ahead in the polls vs both Valérie Pécresse and Laurent Wauquiez) as he's basically a political clone of Macron (as is Pécresse) and that would eat into Macron's votes. Whatever the pair might say, between Macron and Bertrand it's "kif kif bourricot" as they say in France (six of one and half etc.) and after "trying out" Macron many moderate rightwing voters could be tempted to plump for Bertrand.
Another problem for Macron, should he be re-elected, will be LREM struggling to get anywhere near the same number of MPs as in 2017 (about 310, out of 577) in the following Législatives (June 2022) and therefore achieve a parliamentary majority at the National Assembly. Consequently, alliances, as ever, will be crucial to avoid a hung parliament.
TBC.