https://twitter.com/i/broadcasts/1OdKrBgBLaOKX?ref_src=twsrc^tfw|twcamp^tweetembed|twterm^1505144518873534464|twgr^|twcon^s1_&ref_url=https%3A%2F%2Fwww.sudouest.fr%2Fsociete%2Fne-rien-oublier-emmanuel-macron-prononce-un-discours-pour-les-60-ans-de-la-fin-de-la-guerre-d-algerie-10214742.php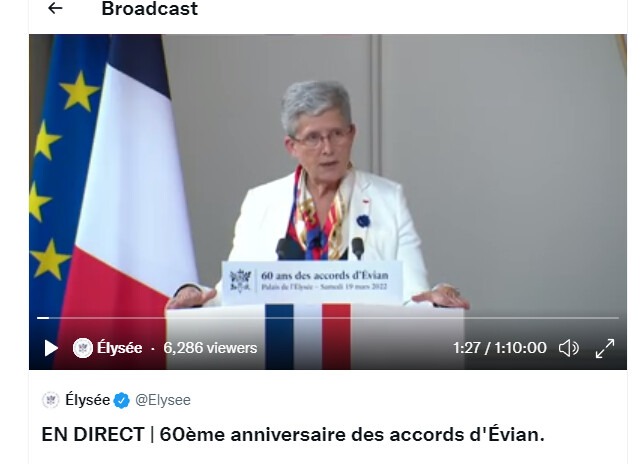 Hmmm, you haven't had many takers here Stella, though the topic must remain surely as a large twine of string surrounding our hearts pulling at how we hold our chosen nation - and our hosts.
And your post of course informing and reminding us of…
I watched the battle of algiers (film) - a great film - one review quote - "Those torture scenes are laid out in montage for us without any self-conscious emotional affect or drama; they include blowtorching the suspect's naked torso, waterboarding, and clipping electrodes to the earlobes before hand-cranking the voltage. "
And did the ceasefire quite hold - I read stories of algerians being thrown in the seine ( by the CRS).
Anyway we need another ceasefire in another area and hopefully it will come…
I'm wondering whether your topic would be one to prep for the citizenship interview - I think not?
I posted the article as I thought it might be of interest… and folk might have attended their local ceremony… or seen the ceremony while passing by…
OH and I have attended at our Monument aux morts every year since we arrived. Admittedly, the first time was by chance, but that meeting with neighbours and old soldiers… and having them explain something of what it was all about… that had quite a sobering effect on us.
Year on year, we see the attendance fall and today we were only 8 and just 2 flag-bearers.
All colonial nations have 'history' but we have to ask what exactly are the French commemorating?
I realize now that being 60 years, they'd arranged something different…
Some of the horrors in the link below… I heard from those who had personal experience of the times.
Overall, they were emphatic… we must never forget, in order that we avoid such things in the future.
Quite a number of our neighbours fought in Algeria, and it's a subject they all refuse to talk about.
I think this is something ingrained into the psyche of that generation in France.
it could be similar to Vichy France for the previous generation.
Andy
Our first "accidental" attendance (many years ago) ended with us being invited to join everyone at the SdF for aperos. This was not a "fun and games" affair. Everyone had a sombre look.
Perhaps those who did talk briefly with us, felt they could as we were British and they wanted us to understand, just a little.
Only one of those old-soldiers (and flag-bearer) of our commune, is still alive. He looked very frail yesterday, but he held the flag firmly.