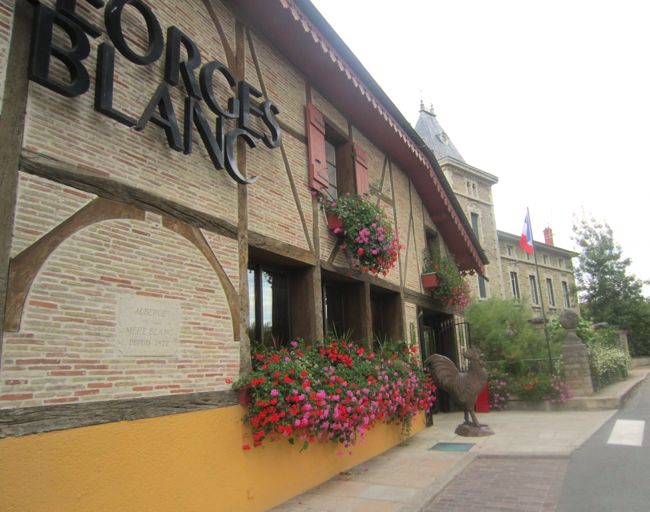 Dining at a Michelin three star restaurant in France, also known as spending an obscene amount of money on a single meal, is not something we do every day. In fact the only time we indulged was many years ago at Georges Blanc's restaurant in Vonnas, in the Bresse, which bumps up against Burgundy. And it WAS a memorable meal. So this week we took a nostalgic trip back to Vonnas with good friends visiting from the states, who had in fact shared that sumptuous meal with us, so many years before. (Georges Blanc is apparently not related to that other famous chef, Raymond Blanc, whom we discussed in a recent post).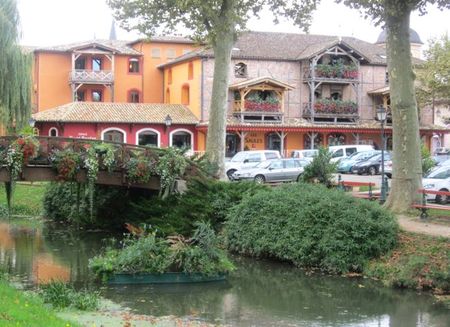 This time we skipped Chef Blanc's three-star. But: across the street from his luxurious hotel/restaurant in this flowery town (owned mostly by the master himself, and renovated to within an inch of its charming life) is L'Ancienne Auberge, his casual bistro restaurant. Same chef, same impressive cuisine team, but with a 24€ daily lunch menu that may be the best deal in France. We have savored many a meal there.
Photos: above, the hotel; the wine shop by the creek. Below, our group wishes you bonne santé; le coq is the Blanc symbol.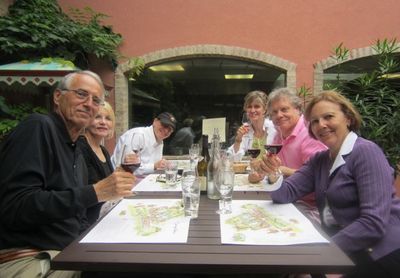 The decor is inviting and interesting too, something you don't always get in France. So we happily dined al fresco on this sunny October day, in the interior courtyard.
The 24€ menu du jour was this: rillettes of salmon with a red pepper coulis for l'entrée (luscious), beef cheeks slow-cooked in a rich red wine sauce for le plat (we sopped every last bit of sauce) which came with a penne pasta gratin (maybe the best mac&cheese we've ever had), and une assiette de desserts (chocolate mousse, 3 tarts, and a tiny, 3-tiered mocha cake). Ron veered off from the set menu and ordered the famous poulet de Bresse, the ultimate roasted chicken served with potatoes an oh-so- decadent creamy herb sauce.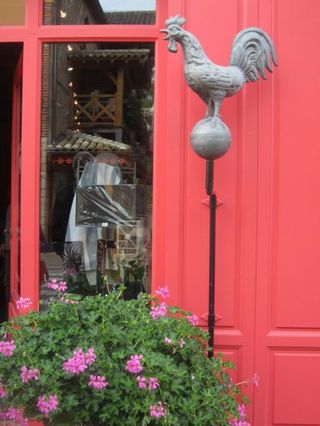 Vonnas is a perfect little foodie side trip if you're traveling through Burgundy. It's about an hour from Beaune, even closer from Macon or Chalon-sur-Saône. And you can spend a morning poking around the village: strolling through the small weekly market (on Thursdays), dreaming your way through his well-stocked kitchen shop, or tasting the offerings at the wine and gourmet food boutique. Take photos on the flowery arched bridge, then settle in for a very fine meal at the Auberge that will leave you starry-eyed, at a very down-to-earth price. Or if you're feeling riche, book a room and reach for the sky!
If you go: get all the details here, and do try to take a side trip to the historic town of Bourg-en-Bresse. Chef Blanc also has brasseries in Lyon and Macon.
RECIPE: Pumpkin Gratin, Inspired by the Master
I poked around on-line for Georges Blanc recipes and didn't come up with much. But I did read an interview in which he described how he makes his pumpkin gratin, though in vague terms with no amounts. So I sort of faked it (and added parmesan, nuts and a bit of bacon to the mix), and you can fake it too, no need to measure. I served it as a main course, and even my resident carnivore was pleased.
For two servings, take a small pumpkin or butter nut squash, peel and cut it into 2" squares. Salt it well and leave it in a colander to drain overnight (this was Georges's idea, though I can't really see that it was necessary. I will skip it in the future, or let it sit for an hour).
Dry it well and put it on a sheet pan in single layer, toss with just a bit of olive oil plus some pepper, and roast it in a hot oven (450F, 220c) for 20 minutes or so, until just soft. Reduce oven to 400 (180C).
Meanwhile, chop an onion and fry it with a couple of slices of bacon (this is optional, but made my carnivore happy) until onions are soft and bacon is crisp. Remove bacon and chop (I used lardons, already chopped). Drain the pan if you like, but leave enough to de-glaze it. Add some heavy cream to pan with the onions and bacon (¼ cup per person is about right). Bring just to a boil and de-glaze pan. Turn off heat and add squash; I mashed mine ever so lightly. Stir it all together.
Pour it all into a gratin pan, top with coarsely chopped walnuts or pecans, and sprinkle lightly with gruyère and parmesan. Bake for 15 minutes and serve hot.
In the COMMENTS: One of our loyal readers, Kim Defforge of the 24/7 in France blog, has written a book about self-publishing that looks like a must-read for authors: How To Write Your First Book: My Personal Step-by-Step Guide
(check out Kim's other books too, Solitary Desire: One Woman's Journey to France
and Sun, Sea & Savoir-Faire: Travel Focus on the French Riviera
). Michaela, thanks for the great tip on cheap formatting! Linda, a book trailer is the same idea as a movie trailer, done by the author and posted on-line. As an example you can see Kelly's tralier for her book Sailing to Jessica
on youtube or on her website. Author/photographer/designer Karen Chase does fabulous book trailers for authors, by the way, if you're not a DIY person.
Favorite reads: Did you know our loyal reader and faithful commenter Natalia is a magazine writer? Dog lovers, be sure to check out The Yorkshire Terrier Magazine, to see her work. Sue Wallace recommends The Road to Burgundy: The Unlikely Story of an American Making Wine and a New Life in France; I read a great review of this book too, can't wait to read it. Sue says it's an excellent tale with a happy ending--and it made her thirsty! New reader Doris recommends a book by another American living in France: At My French Table: Food, Family, and Joie de Vivre in a Corner of Normandy, by Jane Webster. This one is on my list too!
In other news: Missing Paris? I love Virginia's latest Paris photos at Paris Through My Lens. And if you happen to be in Birmingham, Virginia's doing a photography class at Samford this fall.