Sid's adoption, we ahve to admit, was not going to plan.
Sid is the most adorable cat, but at just 4 years old, he'd probably been passed from pillar to post until he ended up at the local pound, which is where Chats du Quercy stepped in!
With us for a little while, Sid was adopted, bhut Sid being Sid didn't make the adoption easy going. He was so pleased that he'd found a great place to be he decided he wanted to be the only one there - not good for the existing cat in the household.
However, the adopters persevered, and although it is still relatively early days, now that Sid can go outside and explore, getting rid of some energy, he has really settled and, fingers crossed, has indeed found his forever home!
Photos taken today -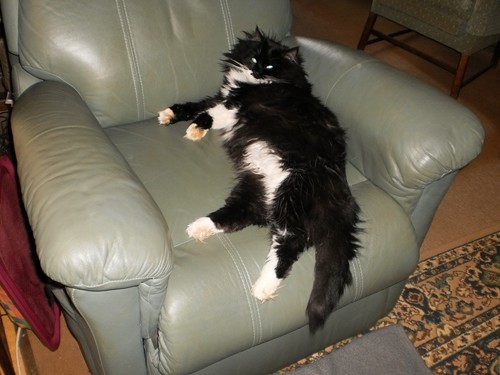 From Sid's new owners - "Yes, he has certainly made himself at home! He is such a beauty - loves being brushed and combed and preens himself afterwards. He caught another mouse today and also is learning to climb trees but only climbs up about 2 metres. However, he is fast becoming a country boy!"