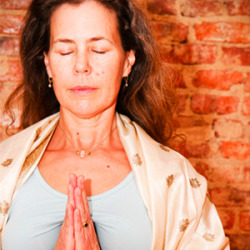 Elizabeth Greathouse, a friend and former colleague, describes herself as being a 95 per cent vegan who eats like a monk at home and feasts like a queen on holiday.
A lawyer by trade and a yoga practitioner since 1982, Elizabeth teaches yoga, trains yoga teachers and leads retreats around the globe. She created Yoga House Studio in Washington DC in 2005.
Knowing she had just spent two weeks in Paris, I asked her to write something for SFN on how a vegan copes with eating out in France. "While in Paris I let myself indulge completely with whatever drew my attention… ", she said.
This is what she wrote for SFN:
"Lao Tzu reminds us "a good traveler has no fixed plans and is not intent on arriving." This is especially true of the traveling vegetarian seeking a meal outside his or her own kitchen, culture or familiar restaurants. Eating in a new country or restaurant is a process, an adventure to discover new foods, new cultural approaches to dining.
As soon as we leave the familiar, we must loosen our control on the quality and type of food we might encounter. It's ultimately our choice whether to lift the fork to our mouth, and it's our responsibility to find choices that work for us.
When I travel I have to ask myself, am I willing to bend my personal rules at all to be gracious to my host? Or are my principles about food choices more important than perhaps eating something I wouldn't normally eat, but today I might try?
Whatever you decide, visiting a restaurant in a foreign country is not the time to take your crusade to the proprietor, and certainly not the waiter who has no control over what is on the menu. Take the responsible choice before you enter, and once you decide to eat there, be flexible and be willing to eat light if you don't like the food.
If you eat eggs, cheese and other dairy products, and can tolerate gluten, you will have no trouble eating a vegetarian diet in most Paris or French restaurants.
I first became a strict lacto-vegetarian in 1982, long before the vegan movement. Pasta, rice, steamed vegetables and the occasional feta cheese were pretty much all one could get on request at a restaurant in the USA then, and these were usually bland and everyone was uncomfortable about it.
Today that has changed and even the renowned chef Alain Ducasse has reduced the amount of meat on offer at his famous three-star Paris restaurant in the Plaza Athénée hotel in recognition of vegetarian choices.
If you have gluten and dairy restrictions, eating in any restaurant is harder, but still not impossible. If that is your situation, your best friend in a Paris restaurant is a "Salade composée".
I lived for six years in Brussels as 95% vegetarian and this was my favorite restaurant meal. If you eat cheese, you can have one with cheese. If you eat eggs, hard-boiled eggs will be added. If you are strictly vegan, this still works with a medley of vegetables and greens. And if occasionally you eat fish, (many vegetarians are really VegAquarians) you can add sardines.
If you have celiac disease, a debilitating intestinal condition aggravated by gluten, ask for oil and vinegar only on your salads, or your dressing on the side, to be certain. Many sauces are made with flour and this will send a celiac sensitive person to bed, or even the hospital, with pain.
A few other wonderful dishes if you do eat cheese and eggs and gluten are:
1. A salade de chèvre chaud – a green salad with warmed goat-milk cheese.
2. If you eat eggs and butter, an omelette "fines herbes" (usually a blend of oregano and rosemary based herbs). These are delicious and filling. Or have an "omelette aux champignons", eggs with mushrooms. These are often eaten for lunch in Paris.
3. Couscous with vegetables. This is a delicious and hearty meal, especially in winter and there are many Moroccan restaurants in Paris.
And of course there are many pasta dishes in the many wonderful Italian restaurants in Paris.
EATING STRICTLY VEG
Here's a good list of raw, vegan and vegetarian restaurants for Paris:
http://www.happycow.net/europe/france/paris/
MOVING TO FRANCE
The good news for those folks moving to France is that you will have your own kitchen! With access to wonderful daily fresh local markets filled with fruits and vegetables, lots of organic products on sale at small health food shops, you can pretty much re-create your UK or American kitchen in France. I do find the prices higher in France than in the USA for organic foods, but food in the USA is cheap in general.
Bear in mind that a lot of produce might not strictly qualify for "organic" labeling, but will meet the lower standard of "natural" and won't have been sprayed with a lot of pesticide. It can be expensive and arduous for a small farmer to get the organic label, but s/he might still be selling a wonderful clean product.
If you are living in France you will want to develop a relationship with your outdoor market vendors; start a conversation, try the different vendors and see what you like. If they get to know you and know what you like, they will look out for you and let you know when something special comes in.
Remember – all fresh food is better than old tinned food prepared ages ago and shipped over from the "old country". Apart from something whimsical you can't live without from time to time, let go of food that is carbon inefficient, that takes energy to be packaged and shipped over. If one of your reasons for eating vegetarian is to be environmentally conscious, then eating local supports that same thinking.
Here are some markets in Paris that sell only organic produce:
http://chocolateandzucchini.com/paris/shops-markets/where-to-buy-organic-foods-in-paris/
I live in the USA, and when I travel to France I suspend some of my most ardent practices. I learned as a child expat that sometimes being a gracious guest is the most important thing I can be, with an adventurous heart.
French agriculture prides itself on clean, wholesome food born from centuries of tradition. Enjoy yourself! If you wanted to stay home, you would have. While a traveler, look up, breathe deep and take in the life around you.
Keep your integrity about your eating practices, to be sure. Animal husbandry today is quite cruel in that it is so massive. France is one of the few countries today that still has some small farms. Visit the ones in your region and support good clean farming practices.
Food is about vitality and prana. The fresher the food, the more life force it contains. Listen to your body, find the balance it seeks, and most of all, be joyful in your relationship to food."
If you want to know more about Elizabeth you can connect to her website www.yogahousestudio.com and her food blog http://www.foodintheworld.com.
This one talks about her experience in Paris.