Does the ladder looks back to front? The the extension is under the base part
Quite probably @Mark - we are carefully not looking, nor at the dangling unprotected cable

Yes indeed @JohnBoy - and you should see one of the separate barns! Interestingly, the extensive abbey round the corner only has two small arches left intact

As of start of play today, all the intended demolition has happened -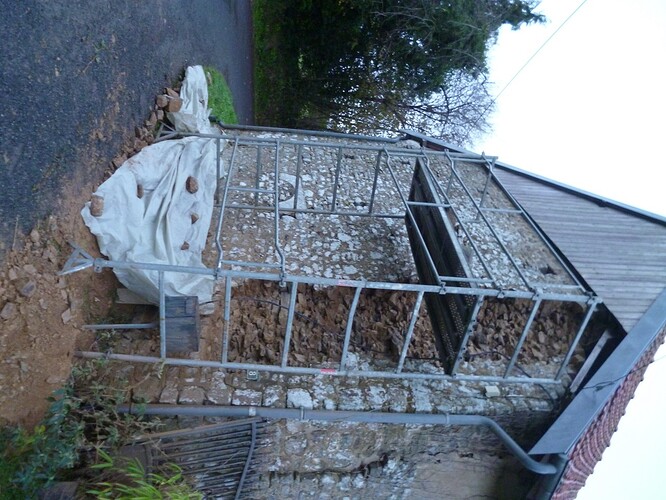 (Sorry it's sideways - I can't seem to get it to post vertically even though I had rotated the image before posting)
Thank goodness you said that (before @SuePJ came along) it looked like a very strange extension from a wall at first.

How did you do that, Sue? I rotated it in Paint before saving it but SF just put it back again, even though it's the right way up when looked at independently

I have had my stitches out this morning.
Now I can walk properly and not like an old woman with scoliosis.
The wind is perishing but we had to dash to the town for medicines…
The cheerful news is that when we got back home, OH decided it was finally chilly enough to warrant "hot chocolate"… hurrah… and I weakened enough to switch on the CH (but it won't be for long


)
Good for you, something achieved. I managed to drive my car yesterday, only back and forth up and down my drive but it was a huge leap as not driven since 21st september. Hope you havn't got any pain.
The first 5 stere of wood gets delivered today, it's going to be a busy afternoon

I'll be lighting the fire after lunch… can't beat the sound of crackling logs and watching those dancing flames… magical.
Mind out for fleas! Apparently

With 9 cats and a dog we are well versed & protected against the little blighters, apple cider for the chickens against red mites as well.
Quite tender but the stitches were very tight and tge nurse did a wonderful job getting them out without hurting me.
There is quite a big scar where the drain was and I have to take it very easy today.
Well done on your driving.
Take care Jane.
First 5 stere delivered, we were having a clear out so we have given you extra birch in with the first load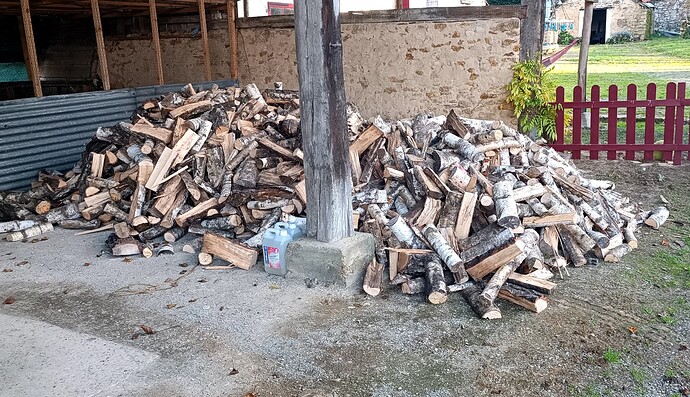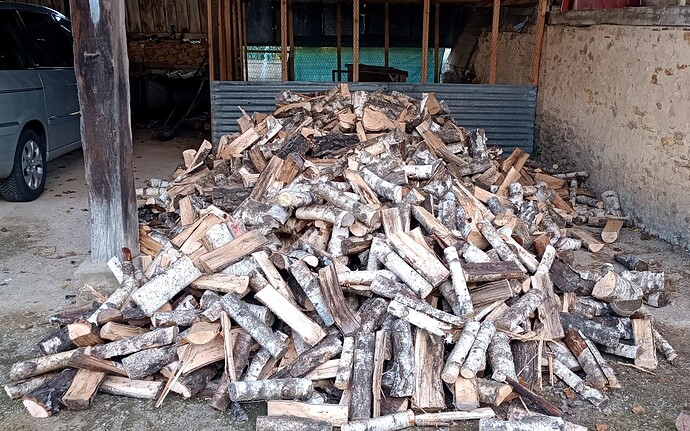 Just planted another 70-odd lizard orchids (ie a barrow load) that I'm moving from the cottage lawn to our field. So far nearly 300 transferred. I think there are probably only about another 50-70 to go!
Who knows whether this photo will be the right way up or not, but it shows the first stage of the wall rebuild.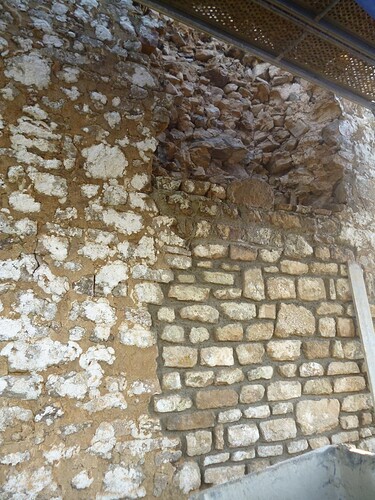 Also, the menuisier arrived to fit two new windows in the main rooms. Fortunately, the two teams know each other well so the maçons helped the menuisier get the new door to the terasse up to the first floor.
Good news on all levels except for the cat, who was so spooked, we had to shut him, his food and water bowls and litter tray into the tiny room that is to become our new, if minute, kitchen. He didn't take well to imprisonment

You could have sent your cat on holiday… I hear there's a nice pet-friendly hotel in Paris



They'd have made a real fuss of him…


Ah yes, I read about that

. Unfortunately, he is too old to send anywhere

Wow! That's massive. I think there are only 80 clumps left in the UK. And round here there aren't very many.