keep taking the tablets, John


It's cheaper to have friends who own a Ferrari or 2 … and ask them to take you out for a spin…

I suppose it's a bit naive to ask "What for?" John…

Oh go on, just a little one then
Well, I think the big advantage Angela is that I could fit it and it's sister Bugatti in a normal sized garage. Plus I guess they qualify as sans permis, useful for my dotage

Does the little one only have two pedals - do you pedal it?
Your comparative photo reminded me that I meant to post the one below on the other current car thread about car museums - an original Miura and a unique modern version re-designed on CAD with the application of contemporary aerodynamics modelling. I've seen them together and the latter looks like a pastiche - slightly anodyne (not a word often heard in Lambo land!)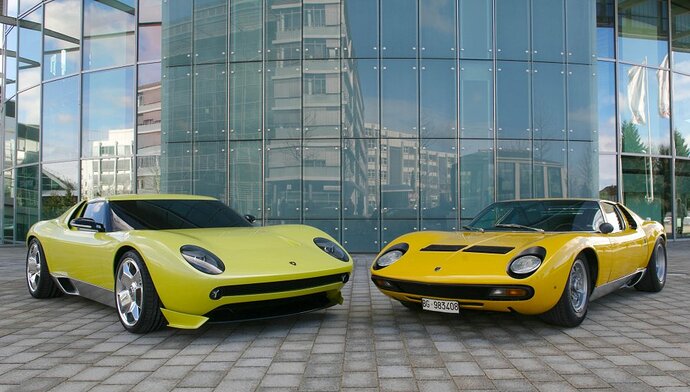 I will stick to the dream of owning a Tesla or Kia EV6, both far more reliable, far quicker and QUIET!
I was very lucky to be the owner of this for ten years … sold to enable me to have a less stressful life not commuting to Canary Wharf from Royal Leamington Spa by taking a pay cut and different job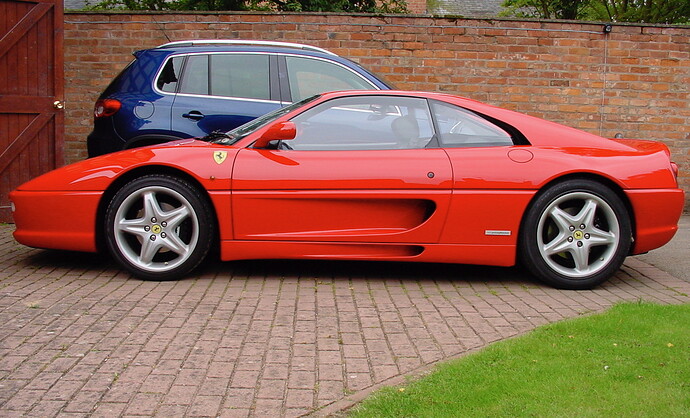 Lovely Peter but you made the right choice IMO. Life's too short.
Is that a nice blue Tiguan in the background. I've a 240BHP version in the "stable". The fastest little truck in town. I've surprised a few "performance" cars at the peage

especially with my trailer.
About twenty years ago, before classic cars became an asset class, an ex Frank Sinatra orange Miura can up for sale in one of the UK classic car magazines, for not a lot of money, really not a lot of money. Another missed opportunity.

A friend with a Tesla Model 3 is popping in next week. I've driven the Model S and I'm looking forward to trying his.
Isnt that a porche cayenne under the skin?
Indeed it is John, but a Macon not a Cayenne (which is a posh Touareg) and for 50k less

Bloody well eats tyres though.
Yes, it's a Tiguan in the background. A friend's car as they actually let me keep the 355 at theirs for two years as we did not have a garage at the time. I didn't realise they did Tiguans with that much poke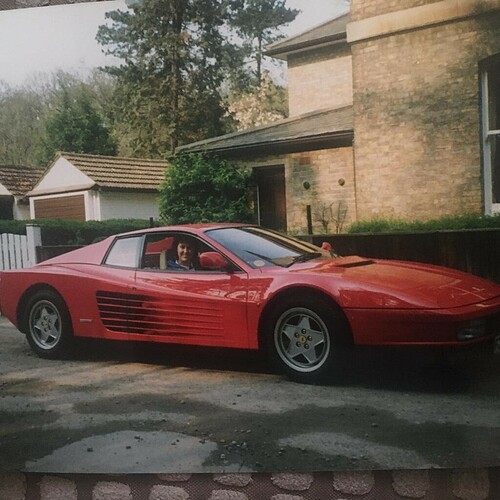 As with Peter I was lucky enough to own this in the nineties. However, that said, it wasn't actually that much fun. I was never particularly relaxed when driving it and the abuse from the public was pretty off putting as well.
Very few do know

That's what makes her so much fun.
That one of the many reasons I like my Morgan. She always get a smile or a cheery wave. Though she's 200BHP and weighs nothing so I've given a few "real" sports cars a scare. But only up to 100KPH when you have to back off to avoid loosing your fillings. The trick is to do it in a nonchalant way, as if to say "of course I could keep the foot down, but I'm not bovvered"