Very thoughtful article in today's Guardian:
I just read that! I think the initial ideas of notes etc - what brand of loo roll etc, is really lovely to help him in the early days of grief. I think still getting a birthday car 40 years later may be taking it too far, how would a future wife feel? Would it stop the widow from moving on and looking for or finding happiness again? Perhaps a card and letter for each big thing in the first year (birthday, Christmas, anniversaries etc) would be a good compromise?
I tend to agree with toryroo. You need finality and I don't think those sort of things help. You have memories and are always finding things or places which provoke those memories of shared moments with a lost loved one. First you don't want to do those things because they are painful but eventually you can and they become a pleasant memory. To have your head in a good place then out of the blue confronted with a ghost is not a good thing. I speak as someone who lost his first wife of 42 and a daughter aged 24. I am now in my late 70's and a very happy womble with my OH.
With regards to my own sad moments… I put them behind me as soon as my grief allows and try to concentrate on the happy memories… sometimes has taken a long time and often needs working at, but that's me.
Folk I had not seen for a long, long time, were suddenly back in the area.
As they came through the door, they saw me and called out… something along the lines of
"so sorry to hear of your mother's death…"
I was smiling/laughing with friends/customers …
It was truly like being doused with cold water.
I froze… felt incredible guilt at my previous happy moments… and the whole horror of her illness and death came back to me with appalling clarity.
If I meet folk, I smile and call out hello… "how are things?"… which allows the conversation to flow in whichever way they wish it to… whatever/nothing… might be a death, divorce…
might be the most wonderful news in the world… you just never know.
I agree. There is a practical side to preparing for one's death - making sure one's OH knows PIN numbers and what tablets to give the dog. A friend prepared her own funeral (did she write her own eulogy I wonder?) and it was beautiful. However, hanging around afterwards through birthday cards and stuff? That just feels creepy and more than a little needy. Loved ones need to be allowed to move on and to find their own ways of remembering the good stuff.
I'm not sure I would want cards and so on into the future. They may have been written with love, but I would find them a bit sterile (as well as creepy).
However if OH could label all the photos I would be very appreciative! He's so much better than me at saying "oh yes, we took that one on a trip to X and do you remember it was the day we had nougat ice cream etc etc". I on the other hand would have to prepare instructions for absolutely everything practical apart from the coffee machine, and a detailed map or where absolutely everything is in the house.
During the height of the pandemic my husband suddenly asked If I had thought about what /where we would like our ashes to 'rest'! I think there are certain regulations in France, but it did get us thinking

We have agreed that a plot in a graveyard is not what we want.
We too have thought about that. There are plots in the village cemetery, but I would like my ashes to be interred in our orchard looking down the valley.
No need for any marker.
That's a shame, do you remember my name before things were changed here?

@Lily On the other hand Fran has long ago insisted that we both belong in the local cemetary at the bottom of the hill, and I go along with that, but haven't quite got round to asking the Mairie yet for a reservation. If we live long enough our plot will get closer and closer to where we are now. I wonder if I could strike a deal with the funeral man. Should be cheaper.

My father, who would be on the staff organising the military's tanker driver crews if he was still serving [he did that stuff when there was a dockers' strike in the '70's] wrote a 'manual' of how to go about the paperwork, starting with 'Go to the hospital registrar's office for the death certificate. Ask for 5 more certified copies' …
There were no passwords or PINS to deal with but this manual was such a help in getting all the paperwork done at a time when one just wants to sit - stupified and numb. Here one minute, gone the next for him. But the manual was to hand. It concluded with a phrase I cannot forget, for its dissociation from him and with the reason for all this - "Cremation is preferred".
The manual came in handy when my mother died. Same routine. All she had offered was, "I don't want any of that nonsense", not specifying what 'that nonsense' was but I guessed it might be religious nonsense. Asked, "Well, what do you want?"got no reply.
Both my father and mother left nothing specific as 'aide memoires'. I had trouble with a lovely bow-fronted chest of drawers which was one of the stars of her collection of fine furniture. I had absolutely no use for it but was torn about selling it but a pal reminded me "Your mother was not a chest of drawers", so off to Bonham's it went.
I do wish she had captioned the photos, tho'. All the pix of her on her wartime service in Java, Sumatra, Celyon, India, Malaya, Singapore … but there is a caption for this.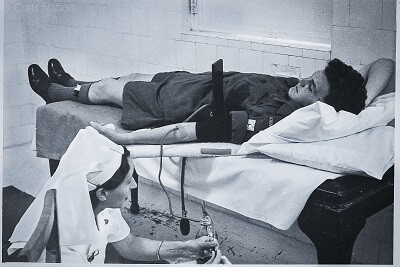 Mrs Nation taking blood from Lance Corporal Robinson, R.Sigs. Queen Alexander's Royal Military Hospital. Singapore. 1956.
I am Tail End Charley. My mother never grasped the irony when she used to say, "You are all I have left, now" because the obvious response would have been unkind, painful.
I vary between, "Well. It'll be nothing to do with me because there won't be a me" to "A bit unfair to leave whatever friends I have left to deal with anything - or tell whoever enquires that they are not inclined to get involved".
By this time tomorrow I will be the owner of a house in France. There's that, for a start …
You could ask your Maire whether they would agree to give you a plot - but don't actually reserve a concession as you will have to pay for it straight away! Concessions are by the square metre and you rent them for a period between 10 and 50 years. Which can be renewed, but if not you will be removed.
I have still not quite forgiven my mother for not renewing my grandfather and uncle's plot without asking us first. By the time we realised it was too late.
Same here. My parents took hundreds if not thousands of photographs, all uncaptioned.
Sadly my father is dead and my mother can't remember.
To be honest @JaneJones I'm not really bothered personally, it is only Fran who has expressed an opinion. I often say that 'I have booked the plot' usually in answer to someone asking if we are staying in France for ever. Maybe I will one day.

I am sure that there was a double grave in the churchyard of St. Augustine's, West Monkton, Somerset, where my grandfather and his 2nd wife were buried. I remember, it had green glass chippings on it. There's a big hole there now. The vicar said he would "look into it"

But, as I say to pals, there are many headstones in the churchyard with my name on them.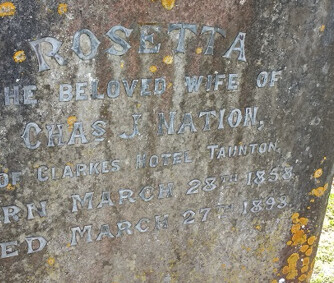 I found a very old, 200 years, headstone with the names of relatives on in a churchyard in Llanelli, S.Wales, it wasn't at a grave but leaning against the church with several others and I wondered at the time why that was.
The first house I bought, in the early 80's was a small miners cottage in Wales (Pontrhydygroes). I dug up part of the front garden to lay a concrete slab for a large wood store and found that the entire garden was layed with slate headstones, most from the 18th C. Many were still readable. These were only 6 inches below ground level, and were possibly layed originally as a flagged are when the house was built in the 1830's. Recycling in action.
How Interesting. Did you keep them, or at least keep a record of the inscriptions? That would be fascinating to me and a start of some detective work.

Couldn't really keep them, didn't want to drag around tons of slate with me when I moved house


. Wish I'd taken some photo's or written some names and dates down, but didn't. One thing I can say is that they were all in Welsh. I just left most of them in place, just lifting enough to lay the concrete base for the wood store. The ones I lifted were put in the back garden.
My MIL lives in a converted barn, was converted over 100 years ago I think. Her kitchen window opening is lined with lovely old stone, complete with grave inscriptions! I find it charming but doubt a builder would do it these days!