Two things have weighed rather heavily on the family this All Saints' week. Like a Formula One pit-stop team, my wife and I have been servicing our daughter full-time: keeping her fed and watered and supported so that she finds the stamina to tackle all the projects she brought home from Paris.
It has been quite an eye-opener to discover what is expected of a first-year student in this country. Apart from the occasional family film and the few hours she took off on her 18th birthday, the pressure – which truly doesn't come from her contrarian parents – has been relentless. Some of her friends who are studying more academic subjects weren't even granted a week off, so she counts herself lucky. Deborah, apparently, heard someone complaining that the youngsters of today aren't as serious and as hard working as they were in her day. Well, in my day by comparison, we were a bunch of wastrels.
The other heavyweight thing – when we've been granted a few moments off from the pit-stop for reflection – has been Hurricane Sandy and, in particular, the devastation it has wreaked in the New York area. It's a sad fact of human nature (or my nature!) that our hearts may go out to victims of natural disasters in, say, the Dominican Republic, but it isn't generally until we see images of the more familiar places that we discover true empathy.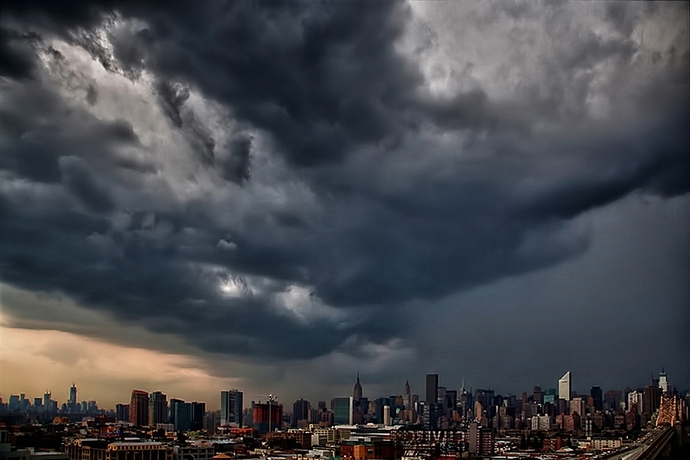 There's probably nowhere on earth that is more collectively familiar, even to those who have never been there, than New York. Even as a young kid, for example, the Empire State Building became such a byword for everything modern that it assumed mystical proportions in my imagination. As a music lover, the destruction of New Orleans by Katrina was hard to swallow, but I had never been there. So the image of a family, say, floating on a makeshift raft through the streets of the Crescent City didn't strike such a familiar chord as pictures of the seawater pouring into a subway station.
To compound our interest, my nephew and my oldest friend were in New York when the wind blew in from the Caribbean. My nephew's a big cheese in the contentious world of wind farms, so he was staying in a midtown hotel, out of harm's way. My friend lives in a basement apartment not far from the west side of Central Park. I pictured the floodwater carrying off all the books he keeps in piles on the floor like literary tower blocks and sweeping away his extraordinary record collection, but apparently the tide didn't reach that far up Manhattan. I haven't heard from him, but that's not unusual, so I have to assume that he survived Sandy as he survived 9/11.
We're so lucky that hurricanes hardly ever happen in Hertford, Hereford, Hampshire and here in France. That said, I've experienced two in the comparatively short time I've been in partnership with my wife. In 1987, the year our relationship went three-dimensional, to borrow a friend's delicious phrase, we were living in a basement bed-sit in Brighton. I was away in Bournemouth at the time, helping to run a course in a big hotel that overlooked the promenade.
I had a bedroom on the angle of the hotel. There were two windows: one seemed to look west-ish and the other east-ish. I'd gone to bed early to read my book and await a call from the self-same friend, who was over in the U.K. at the time. This might have been one reason why I never thought to get out of there when the wind began to blow. Or maybe it was simply because I turn into an ostrich at such moments. I remember clearly the sound of smashing slates and masonry as the wind gathered force. It blew right through my bedroom and the bed shook as if there was a malevolent poltergeist in the room. Perhaps I was frozen with terror, but it never occurred to me to get up and go down into the foyer.
The next day, of course, the extent of the wreckage was visible everywhere. There was no public transport and no apparent way of getting back to Brighton. Fortunately, I negotiated a lift with someone who was driving that way. The phone lines were down, so there was no way of getting a message to my beloved. We drove through the New Forest, past countless uprooted trees and others probably teetering on the brink. We got to Brighton without incident and as we drove along the Hove seafront, I gazed at one of the beautiful Regency houses of Brunswick Terrace with a gaping wound where the stucco façade had been peeled back by the force of the wind.![](upload://zMjQ5fBh9La9FQqn0GaPO9bDjEM.jpg)
I found my gal shaken and stirred but safe and sound and very relieved to see me. The wind had swept down the road where we lived and blown over all the trees of the little churchyard at the end, so that the church itself was hidden by the vegetation. That evening, we went to the jazz club together on the seafront to see James Moody, the American tenor saxophonist, play acoustically and memorably by candlelight.
12 years later, thanks to the miracle of reproduction, there were three of us and we were in France. The millennium was but a year away and everyone was already talking about computer bugs. We'd been to a party in the middle of nowhere and stayed overnight in a wooden shack to which mein host would retire to write. On the way back home to the Corrèze, I remember the ominous slate-grey sky and an unnatural, disquieting stillness. As far as I knew, there had been no Michel Poisson on national television to reassure the population that all was well. Nothing untoward was brewing up offshore.
The wind started buffeting the house early in the evening. Tilley was in bed in her bedroom next to ours underneath the roof. It soon became clear that this was no ordinary wind, so we brought her downstairs and the three of us huddled around our sole heating source, a fairly primitive wood-burning stove that blew hot air into a living space too large for its capacity. We could hear things being blown around outside and knew when the wind was gusting because it felt as if the glass door of the fire was about to shatter. Once the ouragan started ripping the sheets of corrugated iron off the nearby barn roofs and tossing them around like tin cans, it got really scary. We heard banging at one point and surmised that someone had climbed onto his roof with a hammer and nails in a futile and inadvisable attempt to secure his tin roof. Probably Pierre, goaded no doubt by his abominable bovine wife.
In the aftermath of that imperfect storm, our electricity was cut off for a good fortnight. Fortunately, Debs always keeps a good stock of Ikea night-lights and we were able to burn wood, even if we couldn't blow out the hot air. A dog turned up during the blackout. We called him Geoffrey and lodged him in our barn, since he didn't seem happy venturing into the house. He wandered off again in the spring on discovering that a domesticated role wasn't for him.
There are chestnut woods everywhere and huge plantations of pine trees in that part of the Corrèze. Reminders of the hurricane were all around us for the rest of our time in that department: swathes of pine trees snapped in half like balsa wood by the wind; the huge elm trees that lined a part of the road we would take when visiting the Lot flattened and gone forever.
Heaven knows how long it will take and how much borrowed money it will cost to get the eastern U.S. seaboard back in operation. The awful thing is, given a seemingly annual hurricane season in the Caribbean, it may not be long before the next one arrives. Hurricanes happen here, but still rarely enough to warrant the label 'freakish'. So 'blow winds and crack ye hurricanoes' if ye must, but never again please near these parts.