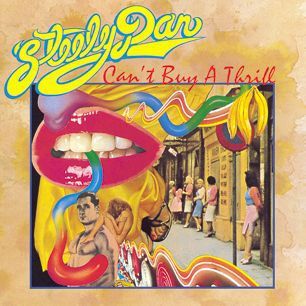 The fact that The Daughter has taken to the album's opening lazy Latin-tinged shuffle in such a big way testifies, I think, to the staying power of Steely Dan's debut, which first saw the light of day in 1972. 'Go back, Jack, do it again/Wheels turnin' round again…' Indeed.
I don't know how I came to hear all about it. I had given up reading the Melody Maker every week by then and I didn't listen to the radio. Working in fairly splendid isolation in a stately home in roughly the middle of nowhere, I certainly wouldn't have heard visitors to the Hall whispering about a great new band hailing from Brooklyn, New York, who took their name from a sordid novel by William Burroughs. No static at all.
And yet I picked it up early in 1974, the same year that the 'band' gave up touring and began the process of whittling themselves down to their co-founders, Walter Becker and Donald Fagen, supported by a host of golden session musicians. I picked it up in Stafford's only record shop for the strange price of £2.13.![](upload://kOIqFJsnqcEB04FHkqXuCvHOfYg.jpg)
Strangeness has always been a hallmark of 'The Dan': from the business of who they actually were to the subject matter of their clever, intriguing but ultimately mystifying lyrics. Subsequent albums would become increasingly opaque, even deliberately obscure, but 'Can't Buy a Thrill' is actually quite restrained: 10 songs, five per side, with strong melodies, memorable hooks and some excellent sheer musicianship. Mind you, even in the age of Prog Rock pomposity there weren't too many popular songs about a pair of royal brothers from the Dark Ages of history – 'Kings' celebrates or laments 'the last of good King Richard' and raises a 'glass to good King John'. Nor did many carry such perplexing titles as 'Brooklyn (Owes the Charmer under Me)'.
In my room at the end of one wing of the Hall, with only the occasional cry of a pheasant in the grounds to remind me that there was life outside the rarefied hermetic confines of the Earl's stately pile, I needed an antidote to Malcolm Lowry's Under the Volcano and Dark as the Grave Wherein my Friend is Laid, in which I had immersed myself during a long but temperate winter. And Steely Dan's first album gave me that. I've always studiously avoided overplaying records lest they outstay their welcome, but Can't Buy a Thrill was often on the BSR MacDonald turntable at the end of a day's hard indexing.
I wrote excitedly about it to my girlfriend back in Belfast. In those days, we wrote long letters on Basildon Bond notepaper in longhand rather than tapping out rapid e-mails to be delivered instantaneously via the ether. I would leave my letters with the secretary to be stamped and placed on a little table in the vestibule, by the Earl's stuffed Great War 'charger' and a collection of his floppy felt trilbies, for the local postman or post-woman to collect.
In those letters, I would surely have quoted liberally to show what a clever band they were (and probably to show what a clever fellow I was to respond to lines like 'The time of our time has been and gone' from 'Midnite Cruiser', or 'A woman's voice reminds me to serve and not to speak' from 'Fire in the Hole', or even 'You've been telling me you're a genius since you were seventeen/The weekend in the college didn't turn out as we planned/The things you take for knowledge, I just don't understand' from 'Reelin' in the Years').
Such a good job of conveying my enthusiasm did I manage that I'm sure that when she came to visit me in the early summer, she was every bit as excited at the prospect of listening to the album as she was about seeing her boyfriend. We would have thrilled, no doubt, to top session musician, Elliott Randall's incredibly electric guitar playing in 'Reeling in the Years', which sounded as if it were plugged directly into New York's central generating station. And 'Skunk' Baxter's coruscating guitar on 'Midnite Cruiser'. And the elegant horn section of jazzmen Jerome Richardson on tenor sax and Snooky Young on flugelhorn. And Donald Fagen's distinctive singing voice.
On this album, Fagen shared the vocals with David Palmer, whose slightly higher voice sounded a little like Jackson Browne's. On all their subsequent albums, though, Fagen would increasingly stamp his personality on the proceedings until it became hard to distinguish a Steely Dan album from one of his solo efforts. 'Skunk' Baxter would join the Doobie Brothers and I don't know what happened to drummer Jim Hodder and guitarist Denny Dias, whose electric sitar solo on 'Do It Again' segues into Fagen's solo on the 'plastic organ', whatever that might be.
Judging by the observation of someone I met at college, who saw Steely Dan in concert with Little Feat at the Rainbow or somewhere in London, to the effect that Feat blew The Dan off the stage, it's perhaps not surprising that the band became a mere enhanced studio partnership. It didn't really matter, given the uniform quality of the albums that followed this one (even if The Royal Scam is a slightly weaker hand). The key thing was that they produced literate lyrical music that continues to delight.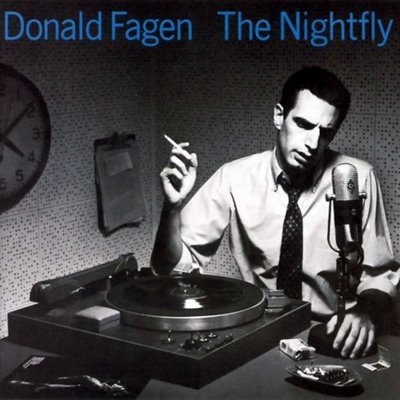 In fact, I keep vacillating when it comes to my favourite Steely Dan album. In view of my jazzer's proclivities, it's often Gaucho and sometimes Donald Fagen's Nightfly. For a while, it was the follow-up, Countdown to Ecstasy. But then I keep coming back to their debut, maybe as much for the associations as for the uniform quality of the songs. It was Can't Buy a Thrill that nudged me towards the down-home and dirtier Little Feat and thence to New Orleans R&B, and probably towards another New York band whose music has lasted longer than anyone might have thought at the time, Talking Heads.
'You wouldn't even know a diamond if you held it in your hand/The things you think are precious I don't understand...' In my book, there's no refuting that Steel Dan's first album is a precious commodity.