Carte de résident de longue durée-UE (étranger en France depuis 5 ans)
Hello has anyone info on this ?
If you type "carte de séjour" into the forum search function you will find lots of threads with links to follow. Suggest you sort them most recent first.
Thank you , am I missing something , are these one and the same , or different entities ?
As Anna says. However if you are British there is no point in looking as it's unlikely that any prefecture would accept an application at this point.
Carte de résident, carte de séjour, titre de séjour, titre de résident, it's all the same. For each specific set of circumstances there is a process for applying for confirmation of your right to reside, doesn't matter what you call it.
As others have said, if you haven't got one already then no point reading about it as in 11 days we will no longer be eligible for one anyway, unless you have dual nationality with another EU country. (And it takes from 2 weeks to a year to get one).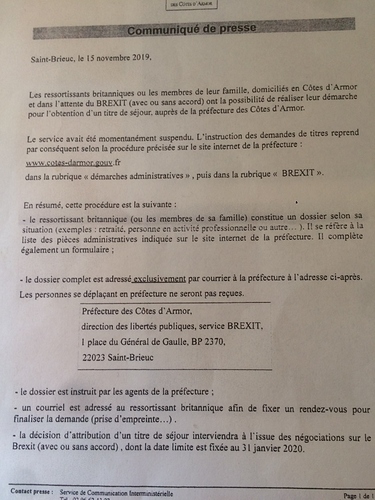 Sorry if I have missed something but do not read on this site on a daily basis
image|375x500
What has that got to do with a carte european? I read this as preparation for for post brexit applications for new non-EU cards? Tho' don't understand why they give the deadline as 31.1.2020 - unless in case of no deal?
It looks as though you will have to apply for the CdS/TdS you will need after Brexit online through a central portal. It will not be any form of CdS UE because, if you are British, you will not be entitled to one of those. At the moment there seems to be a period of limbo as France waits to see what will actually happen at the end if the month.
For the moment do nothing but check here daily for the latest news.
31.1.2020 is the date we will know for sure whether Britain is leaving with a deal or without a deal. Hence, which procedure to launch.
It's not over until the blond clown pops the champagne cork.
We have been told that applications made before the end of the month will be treated as if before we left europe and will be free of charge .
Well I'm sure as hell not joining him…and it better not be Champagne! He better make do with a glass of beer.
Told by …?
If there is a transition period, which at present seems almost certain, then the deadline for submitting applications will be confirmed but it's expected to be July 2021.
Everyone who is living in the EU before the end of transition (expected to be 31.12.2020) and who applies for a CdS will be treated as if before Brexit. Hopefully it will be FoC - I'm sure I've read this on an official website, but last time I tried to find it I couldn't put my finger on it.
That's not correct Anna, trade deal negotiations haven't even started yet.
???
No that's correct.
But citizens' rights will be finalised in the WA, no?
This was agreed right at the start of negotiations, when Mince famously turned up without even a sheet of paper and a pencil. The UK wanted to start talking about trade straight away but the EU insisted citizens' rights had to be negotiated first, then move on to trade, and Mince agreed - the UK's first capitulation, and an early sign that it was going to be the EU that would protect the citizens from both sides. Regardless of whether trade deals are complete by 31 Dec or even if we end up "crashing out" in terms of trade, they're not going to retrospectively cancel the transition period and the WA.
You are confusing things Tim. The conditions of the Withdrawal Agreement was what was always referred to as The Deal and is a significant point as Anna has pointed our. You, like so many of the British papers have shifted the term The Deal to refer to trade deals whic will come later in one form or another.
If I've misunderstood Dan then as long as the WA is agreed by both sides there should be no fee for the CDS/TDS, is that correct?
Should be.
The WA says the cost in each country must not be greater than the cost of the equivalent document for their citizens. France issues carte d'identité for free but I believe it makes a charge for passports.
But yes hopefully free of charge. I'm sure I did read this somewhere.
That's very nice of the Cote d'Armor. Shame not all Prefectures behave this way.
FWIW, the government changed the prices of titres de séjour on 28th December 2019. This will only really be relevant post-Brexit transition period, assuming that the WA gets through UK parliament and is passed by the EU parliament. I haven't had a chance to cross-check each article referenced in that piece of legislation to find out which one might affect the cost of the future re-registration system (for those of us that already have EU titres de séjour). The default price now seems to be 200 Euros, with some special cases at 50 Euros.
The Prefecture du Puy de Dome's website still points users to the government's website registration system for requesting a titre de séjour if you are already resident…