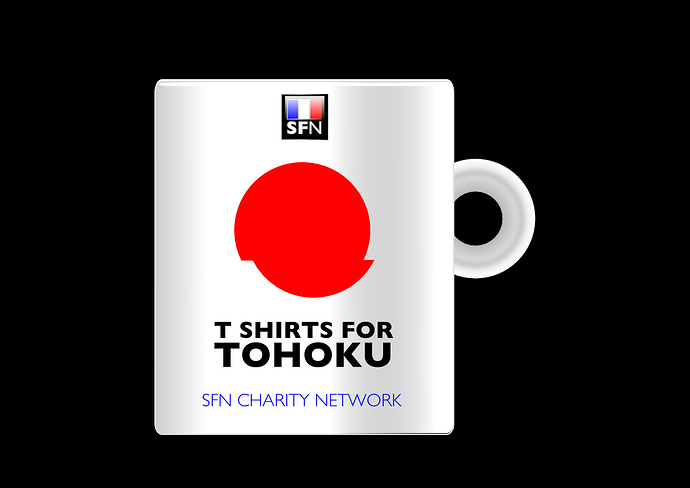 Charity Begins…
I put this as a topic, Not a blog, it's not a commercial thing, it's not and entry to the 'slogan' competition, although it does lead to a concept.
IN January this year I started entering design competitions as a therapy. And have produced 1000 designs. They all sit in a folder on my desktop. The organisers of the competition as it happens Design Crowd, supply out-sourced designers from all over the world, there are 50,000 registered.
The potential clients 'post' the projects set a brief, fee, and deadline, and the designers pitch their designs, he who wins gets the fee.
ON the 11th of March the day of the Tsunami, a job was posted with a fee/prize of perhaps 400 USD. The client wanted a rapid turn-round as he aimed to fly out to the disaster zone, and 'print' T shirts to be sold Globally (?) to raise money for the victims.
Like many I was straight on the case, the news was showing the devastation minute by minute.
The concept of the design took less than 60 seconds, I'm quick that way, The design also designed itself, it had to be poignant, 2 colours for cost effective printing, and tell the message in an instant. I still believe the hybrid Japanese rising sun, with the shift of the tectonic plate element is genius But that's my opinion. The type? the Fount is GILL SANS which has a near perfect Circle for the Capital 'O' which echoes the rising Sun.
The Application I use is INKSCAPE a Free Open Source App, that everyone should have installed. In my opinion.
The 'camera ready artwork' was produced in 15 minutes from 'concept' to completion' It was uploaded to the competition Server within seconds. The uploads must have a textural 'description' this read " Good luck" I do not want a fee. You wouldn't would you.
CONCEPT
I don't know If we have here a charity division. I do know that we have a community of professionals and highly aware members, likers and followers, this is a force. Between us we have writers , designers, web programers, and people. A pool of these resources can do much good. Why not a charity drive for the victims here.
The disaster has forced counties to totally re-evaluate nuclear Power, there are still people living in cardboard boxes. Many people selflessly clearing the power plant sites, ignoring the fact that they will probably suffer an early death. Food for thought, perhaps as we prepare to fill our own tums to bursting tomorrow.
We can, and should have a fighting force, 'many hands' as he man said. If every member bought a mug or a t shirt, each just grossed up by a Euro, thousands could be raised, for little effort, for this, and other deserving causes.
I'm game, anyone else?