BTW got it wrong, the place in Redon is open on Sat's Paul we have picked up some 'bits' there

Look for the Ploermel municipal tip, it's on the same approach road and called Comptoir des Rues besides the Red Cross unit. Check opening hours!
Had a good chat with Mark this afternoon - doesn't get anything as large as we're looking for (too big for his van). Interesting place though. Interesting bloke as well!
He is Paul, was in there Tuesday pm, found a wee 'Matchbox' Jag' SS 100, to add to my 'dust collectors'

Did you have a look in Saint Congard Paul ? I know they are not cheap, but they also have a back room with a lot of furniture to be renovated if you're feeling crafty !
We've looked previously so know they get the type of thing we're looking for. As we are not quite  reasy to buy we're more looking around to see if anywhere else is a good bet for having one in stock when we start looking seriously.
I suppose you know it, but just in case if you search on leboncoin, the best description for such a big table is a "table de monastère"
Thanks, that might come in useful.
On the subject, if I can beg your indulgence, how would you translate the word "enfilade" - the previous owner had a long table which he offered to us, the estate agent used the word "enfilade" - I could not find a translation of this and when I enquired they replied "une grande table en bois" - fair enough.
However if I do an image search I get pictures of what I would call a "sideboard" - i.e. a low cupboard, usually situated in a dining room and used for cutlery, crockery and various tableware - for example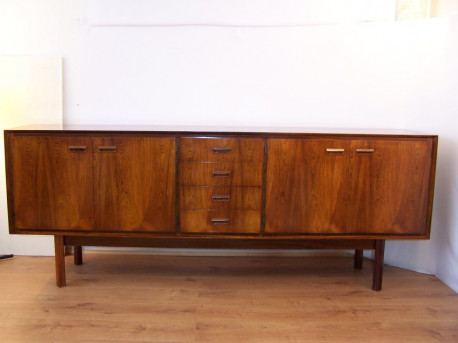 I am curious as to the correct usage.
Your picture is definitively an "enfilade", long low furniture. I never heard of this word to be used for a table. Enfilade litteraly means "parts aligned"
Thanks again Elisabeth - think it will take me a while to learn al those items!
Odd that the estate agent should have mis-used the term, they were very clear - I went back to the original emails to check.
I wasn't especially interested, he wanted 2k€ for a very ordinary 6-seater dining table.
2k€ needs to be something really special, because if not, you can find the complete dining room for that price on leboncoin !
2k euros is getting close to the cost of commissioning one, Potentially on the cards if we can't find what we're after but if we can avoid that much cost it would be good.
Exactly Paul, for that kind of money it needs to be the One ! And not an approximation of some sort. Are you looking for an antique one, or something more modern ?
Very interesting link Elisabeth…
@anon88169868 Paul… you might find the following book useful… it covers every aspect of life in general…
The Oxford-Duden Pictorial French and English Dictionary
ISBN 0-19-864538-4 / 9 780198 645382