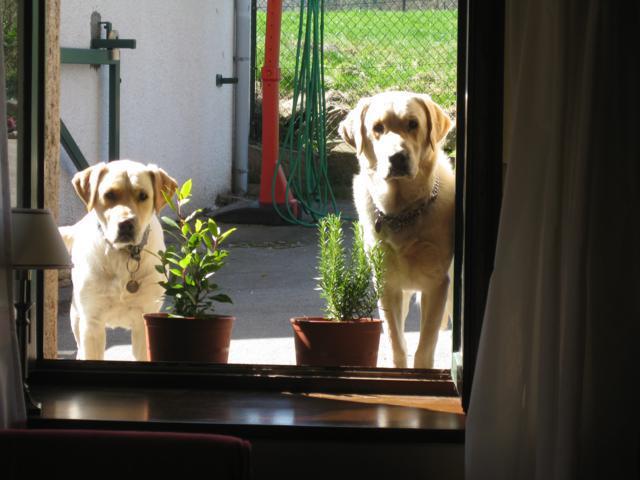 We're off to the UK for the last 2 weeks of August and we need to find carers for the dogs (Labradors - soppy and loveable), the cat (aloof but turns on the charm when hungry) and the goldfish (they swim a lot), and it would be nice to come back to a garden full of healthy plants rather than shrivelled offerings!
Both dogs were adopted, and Sophie in particular would have a very hard time in a pension - she was rescued from a puppy farm and so is very fearful of being shut in - I think a standard kennels would destroy her. However they are absolutely fine with other dogs, and children, and anyone who is nice to them. They just need affection and walks.
We live in![](upload://wSa7eeGuxFd5DjsoNqCqDtiNJEc.jpg) the Hautes-Vosges in an old farmhouse which is divided into our bit and two holiday rentals - we are not taking any bookings for those 2 weeks, so it would just be the critters and garden. 3000 sq m garden/meadow which is fenced in so no worries about dog escape bids! Accomodation either in our part of the house, or one of the gites. Possibility of staying on for a holiday afterwards. Use of car if needed (ancient Golf but she goes).
The house will be on the market so there is the possibility someone might want to view it, but the immobilier would warn you and accompany any potential purchasers.
If anyone knows of anyone, or fancies a working holiday, please let me know.
Thank you!