This morning at Windsor Castle,He was an old man with a family so let's show some respect
An enigma at times, but a truly devoted husband and family man, what a life he led, RIP.
I am so very sorry to hear that.
Very sad news and by all accounts a remarkable man and keen intellect (if occasionally given to controversial comments).
Just 61 days shy of 100 years…
Remarkable life and a remarkable person - and amazing to live so long.
A man who knew and lived that - to some old fashioned - word , duty.
RIP Phil The Greek - We will not see his like again.
I hope I'm wrong, but I fear for the Queen.
I'm glad they brought him home for his final weeks.
Super photo of the two of them. Even at that age he had a wicked twinkle when he looked at her. She chose well!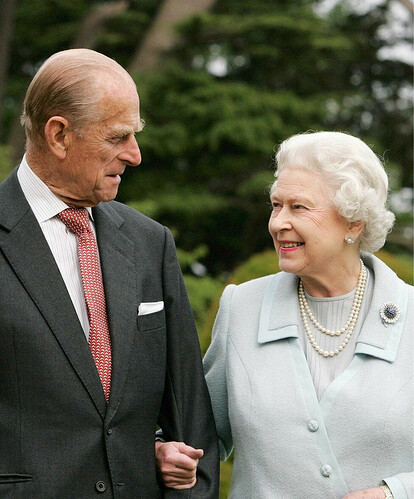 The obituary writers have had many years over which to polish their pieces; although I'm a firm republican, I enjoyed the following extract from the Guardian
'His family lived on the charity of relatives: his elder sisters dressed in hand-me-down clothes. Their father, bereft of military command, had no occupation and abandoned the family, retreating to gamble in the casinos of Monte Carlo. Their mother, Princess Alice, who was deaf, suffered from schizophrenia and was confined to an asylum for much of Philip's childhood, though she recovered, becoming a nun and setting up an Orthodox nursing order. She would eventually go to live at Buckingham Palace, where she died in 1969 at the age of 84.
'Philip grew versed in keeping up appearances while "skint", one of his favourite words, being shuffled between boarding schools, first in Paris, then Germany and latterly Scotland, and spending his holidays with relatives, including his sisters, two of whom had married into the German aristocracy and whose husbands became Nazis. Once asked about his childhood home in an interview, he replied: "What do you mean, 'home'? You get on with it. You do. One does."
I think 'getting on with it' was the motto of all classes of that generation, 'You just have to deal with it' was the most useful piece of advice I got from my mother - it was her response to any vicissitude.
Feel so sorry for M'aam. She fell in love with him at 14 and never fell out. How will she cope without the love of her life?
Me too, after so many years together it will be hard for her, so often the other person left is literally heartbroken and soon follows.
I really hope this won't be the case, my heart goes out to her.
I don't do social media being too thick (thinks is THIS social media?) but MOH does. He says people are making more noise - spitting more feathers - about their tv shows being cancelled than they ever did over lockdown!
I think/hope her stoicism will help through this sad and difficult time.
He was President of the World Wildlife Fund, The International Horse Federation and, of course, The Duke of Edinburgh's Award Scheme, which gave a real start to so many young people.
I liked Archbishop Justin Welby's epitaph: "a long life lived well and ended well". Amen and RIP.
Lovely tribute from Barack Obama
Awwww just had a few tears after watching some excellent programmes on him tonight, lots I didn't know. a quite amazing man and regardless of his 'gaffs' I liked him very much. Never actually thought about it too much but realised now of course that my fabulous memories doing my Duke of Edinburgh efforts were due to him (silver). I also worry for the queen, must be unbearable being without her life long mate.
RIP.
Seems to me the media and the Royal Family between them are in danger of making a real pig's ear of this.
I really do NOT want to see Andrew talking about his father being "the grandfather of the nation" or that he and the family now understands what the rest of the country has been going through - NO YOU DON'T.
Nor indeed do I want to hear the likes of John Major (even though I think he's a basically decent man) all over the press saying that now is the time for divisions within the family to be healed. NOTHING TO DO WITH YOU JOHN.
Not to mention ongoing dirgy music on Radio 3.
If this goes on much longer by next Sunday everyone will be saying thank heavens that's over. I doubt very much it's what the man himself would have wanted - though he might be having a good laugh about it all now.
And, by the way, I think he was rather splendid.
Edited on 12th - seems I'm not the only one …
I shook his hand when he presented me with my degree years ago.