Who here remembers Woolworth's record section? Perhaps I should ask, who remembers F.W. Woolworth? since it already seems so long ago that the retail behemoth folded. Their record section was a bit hit and miss – rather like their Pick 'n' Mix confectionery section – but occasional trawls yielded the odd treasure.
The Belfast branch was more comprehensive than most, but I picked up Eli for about a pound in 1973 in the Bath store. We'd just moved back across the water and it was a difficult period of transition, but I was able to take it with me to Sandon Hall, near Stafford, where I landed a job as an assistant archivist working for the deeply eccentric 6th Earl of Harrowby, may God rest his antiquated soul. An octogenarian at the time, he wanted to give a once-in-a-lifetime opportunity to a young person from war-torn Belfast to work in his trouble-free stately home. I didn't go into too much detail about our fairly comfortable tree-lined existence in the capital of Norn Iron.
At the end of most working days, I'd lie on my bed between my Wharfedale Denton speakers, light up a Consulate menthol cigarette, as cool as a mountain stream, and listen in depth to an album. Eli was often creeping around my room. 'Eli's a comin/Whoa you better hide your heart/your lovin heart/Eli's a comin and the cards say/broken heart...'
Just a little too young to be a full-blown hippy, I was nevertheless deeply in love with Laura Nyro, as many flower children were. On the cover of Eli, she is depicted as some exotic, fragile pre-Raphaelite creature. With her alabaster face, her long black hair and matching robes, she was almost a cross between Snow White and Lily Munster or Morticia Addams. A wistful, pensive Lady of the Sorrows, she and her soulful music struck many a chord deep within my delicate teenage being.
Labelled a 'folk-soul' singer at the time – probably because she was white and female and therefore had to be a folk singer – Laura Nyro was, in my book, nothing less than the greatest white soul singer of our time. Often overlooked or underestimated during her short, reclusive life, she nevertheless influenced everyone, it seems, from Elton John and Ricky Lee Jones to Todd Rundgren and, err, Alice Cooper. Finally and inevitably she was given her dues when she was inducted into the Rock and Roll Hall of Fame in 2012. And not before time!![](upload://wsc5KNlWfWkNgADILHKlHYvEBhL.jpg)
I came to Eli five years after its release in 1968. However, I'd already treated myself to Christmas and the Beads of Sweat in 1971 and New York Tendaberry the following year. So convinced was I that the three albums were conceived as some kind of trilogy, I wrote an extended essay about the notion for the American Arts element of my English degree. My tutors, though, were singularly underwhelmed by my big idea.
In any case, Eli knocks spots off the other two. Tendaberry is a rather harrowing soul-searching affair at times, while Christmas is a slightly uneven affair, despite the presence of wonderful songs like 'When I was a freeport and you were the main drag' (and what on earth was that all about?) and a version of Gerry Goffin and Carole King's 'Up on the roof', which ironically – given that King was probably her number 1 rival when it came to writing catchy soulful pop songs for herself and for others – would prove to be her biggest-selling single.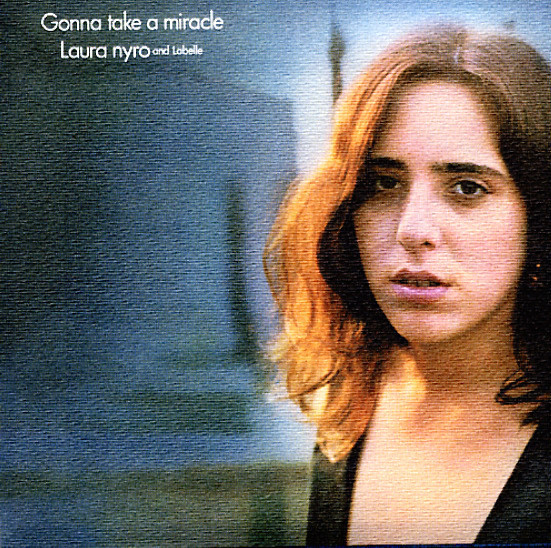 In fact, Laura Nyro was also a wonderful interpreter of other people's songs. Gonna Take a Miracle, for example, recorded with Labelle and produced by the Phillysound creators, Gamble & Huff, is a delicious album of what she called 'teenage heartbeat songs': entirely non-original material that includes storming versions of 'Jimmy Mack' and 'Nowhere to Run', which are right up there with Martha Reeves & the Vandellas' Motown originals. And that's really sayin' something.
But Eli is uniquely her own work and, like her First Songs, laced with hits for others. The title track was recorded by Three Dog Night and 'Sweet Blindness' and 'Stoned Soul Picnic' by the 5th Dimension, who interpreted so many of her songs that they were almost the equivalent of Dionne Warwick to Burt Bacharach. I burdened our shelving with a CD from an Emmaus depot by the British jazz singer, Clare Teal, simply for another version of 'Stoned Soul Picnic'. Nice as it is, it doesn't come close to the sheer euphoria of Laura's original. 'Red yellow honey sassafras and moonshine...' Every time I hear it, I still want to surry on down to that stoned soul picnic.
Certain things are particularly noticeable on re-visiting the album. While she can write a catchy melody as well as just about anyone, there are some quite daring shifts in both melody and time signature (in songs like 'Poverty Train') that betray the jazz influences from her childhood. And while the music surely qualifies as pure soul, with all the double-tracked sections of call and response, it's perhaps closest to the gospel-soul of Mavis Staples.
The music, too, is often downright funky. It was clearly recorded with a crack team of musicians (Christmas was made with the Muscle Shoals crew and I'm guessing that Eli probably involved top New York-based session musicians like guitarist, Chuck Rainey, and drummer, Bernard 'Pretty' Purdie), but it's her self-taught piano that's frequently the funkiest cylinder in the engine.
Some find Laura Nyro's voice too screechy for comfort. It's true that I find it hard to listen to, say, Lorraine Ellison's 'Stay with me, baby' or anything much by my daughter's erstwhile favourites, Florence & The Machine, because of the hyper-charged emotion of the vocals. But although Laura's highest register can occasionally be a little unnerving, what I hear is a passionate but beautifully modulated and genuinely soulful voice.
She shied away from the public eye and didn't play many live concerts. They could be very intimate affairs and she was reputedly booed off stage at the same overblown Monterrey Festival that launched Otis Redding to a mass audience, so that would have certainly reinforced her natural reticence to perform. After a long hiatus when her popularity dimmed with the quality of her music, she fortunately shook off her creative malaise to release a crop of fine albums towards the end of a too brief career.
Nero or Nairo? I used to argue for the former with any classmates who could be bothered to debate such trivia at school. Nyro was an assumed name, anyway, and we'll probably never know for sure now. She was passionate about animal rights, a committed feminist and general champion of the underdog. For all the joy inherent in her catchiest tunes, there was always a dark and sorrowful side to her music, so it's perhaps not surprising that she met a tragic fate. She died of ovarian cancer like her mother before her at the same age of 49.
My wife specialises in generational work with her clients. A few sessions with her might have given Laura Nyro a bit more time on this 'brown earth'. I suppose we at least have the records. Eli & the 13th Confession probably rates as her finest 40 minutes or so in a recording studio. Go listen or nip out and buy the anthology. Immerse yourself in her oeuvre!