My girl will be throwing things onto the stage for him tonight in Bordeaux! She's on a girls weekend for the concert. I like Elton but felt happy to donate my place

Lucky girl, should be a great concert with a fantastic atmosphere. Hope that she has a great time and drives you mad singing all his songs when she returns


I would have loved to see him live. My last concert was in August 2007 when hubby was still well enough to travel and I surprised him with tickets to see Genesis in Lyon. Lovely memory.
It's the lovely memories that keep us sane … hang-in there Mandy.

That's so true Stella. It's still difficult to get past the horrible memories but I know that one day the good memories will become more prominent.
Had the privilege of seeing him live in 1971 and knew then that he was going to be someone special. Saw him again in 2004 and watched "Rocketman" the other week which is excellent and brought back all the memories of his excellent career. Certainly have been privileged to be on the planet at the same time as this great man.
One of the best concerts I've ever been to, he played near enough non-stop for two and a half hours with Ray Cooper on percussion simply amazing. The energy of Elton and his band who are all around 70 was incredible, I hope I'm that fit when I'm a similar age. Having been a lover of his music for nearly 50 years I'm pleased I got to see him live before he stopped, almost tempted to get tickets for another show!

I wonder if this was a bribe for a concert ticket


(only joking)
Reports from the front line say that last night in Bordeaux was one of his best ever!!
Not a great pic but you get the idea - apparently the amazing Arkéa Arena was packed to the ginnels!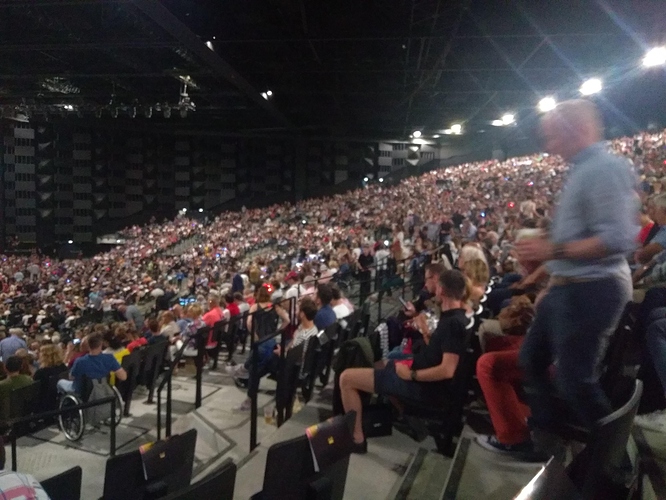 yippee for youtube - singalong time in my Household

https://www.youtube.com/results?search_query=+elton+john+bordeaux+2019
A piece of Elton trivia -
The Hollies big hit 'He Ain't Heavy, He's My Brother' featured a very young Elton John on keyboards when he was working as a session musician before he hit the big time. He was paid the princely sum of £12 (or 12 guinees), I wonder what he would charge today ?
Seeing it Tuesday, please don't tell me what happens as I've been looking forward to it for months.

I have a 'Sixth Sense' that's not in the film.