Oh my… I read this and thanked my lucky stars that I am from a different age…




Stupid BBC promoting stupid views of stupid woman.
My teeny tiny lovely engagement ring is a symbol of love and attachment to my darling hubby. I wear it proudly and will never take it off.
My partner gave me a lovely ring 10 years ago and I have never taken it off.
To me, like Mandy, it is a symbol of love and attachment

My OH, asked me to marry him… and I said yes… after just 3 months of "going out together" … he was going into hospital to have his tonsils out… and for some reason was worried about me… (did he really think someone else might whisk me away.).


… he took me to the shop and I tried the tiny ring on my (then) tiny third finger… it was a perfect fit… I cried, the shop-lady cried too (we were so young… and our love shone around us like a beacon she reckoned…)

even OH was a little wet-eyed …


For us, the ring was a visible pledge of what our hearts were saying… he survived the operation and we were married within 12 months…
Next year we will celebrate 50 years of chaotic, hilarious… wonderful married life.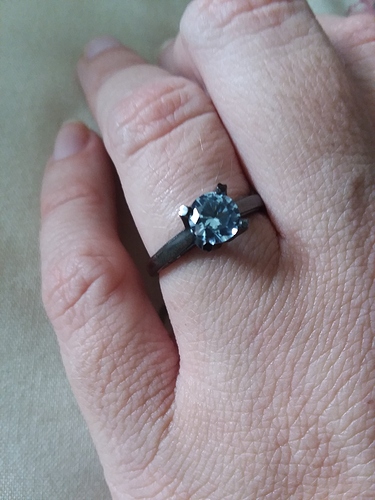 Hubby proposed the first night i arrived in Paris…the very first day we actually met after 3 months of online dating!
Still amazes me, he found me 5000 miles away and i was Miss Independent!
I see she's been married twice already. Says it all really.
She's American.
I have my grandmother's ring.
Jim was finishing off his Ph.D at Lancaster University when we got engaged after three months.
He was going down to Kent to start his new job so we got engaged.
41 years so far.
Like others replying to the thread my ring represents a pledge of our commitment to each other, unlike them though it is an eternity ring. We got married 16 years later!
Third marriage. First marriage was not consensual…second one i was married 13 yrs-he chose drugs and women over his family.
Now…im happily married to whom i was created to be with
Im trying to not be offended by your words-Shes American
I may be wrong Meghan but I think David is refering to the woman in the post " Why you shouldn't put a ring on " and not to you personally !
Ditto , I think again it's in reference to the link posted by Stella and not aimed personally at you.
I don't think anyone here would be so impolite as to refer to you as 'She's American' , Meghan.
I'm English Meg…born in England with Scottish roots…I can no more stop being English than stop being the mother of my 3 gorgeous kids born in…and still living in…England…x

I'm no longer with the father of my 3…but I don't regret my relationship with him…
I've never even thought about being "European" until I came here…don't ever apologise for who you are…who you are is amazing…

I was in my local supermarket the other day and someone engaged me in a conversation about dog treats…I was completely unprepared for it…he instantly realised I was English and apologised at the same time I apologised…I felt slightly sad that I had missed an opportunity to make a friend…but rather than stalk him round the aisles to make amends I just decided there was actually no harm done and maybe I'll see him another week…x

Im proud to be me…my life journey has never been an easy one but im proud i just grew stronger. Yes, im proud to be American too…but mostly cause Im me!
Apologies if i misunderstood!
It was a bit ambiguous Meghan and I can see how at first glance you may have thought that people were referring to you, but normally we are quite a civilised bunch of folks on here so don't generally go in for name calling.