What is the favourite picture you possess and why?
While doing some family tree research and through a strange set of circumstances, I had a photograph emailed to me from Australia of my maternal grandparents. It was a studio portrait of them holding a baby taken around 1917. My mother didn't have any photos of her father and didn't remember him as he died when she was 5. She was thrilled to bits.
Of course there are pictures that mean more to me personally, but that's the one I'm most pleased to have acquired.
Impossible question Bill, there are so many.
Probably the most meaningful is one taken at a family wedding which shows me and my late missus with our son wearing his first kilt when he was about 18 months old !
Do you mean photo, painting or something else?
Picture, doesn't matter David

We have originals prints and photo's, but the one I value the most, is one painted by a neighbour, died a while ago, his nephew (not a sypathetic chap), was burning a lot of the old fella's stuff, I was sad to think Henri,s pics are probably in there.
Months later we were wombling round a charity shop in Ploermel, Brittany (50kms), my Wife was looking thro' some pics, found our very favourite picture, painted by Henri, couldn't believe it; told the story to the manager, he wouldn't take anything for it. Kismet

I did mean/say pictures You Personally Possess David, mind you, if thats only on loan to the museum, forgive me, you lucky guy

Sorry. Missed that.

Try again. This one is an oil painting of my home town painted by someone I thought I knew really well. I only thought I knew him really well because I knew him for years but I didn't know that he was a painter!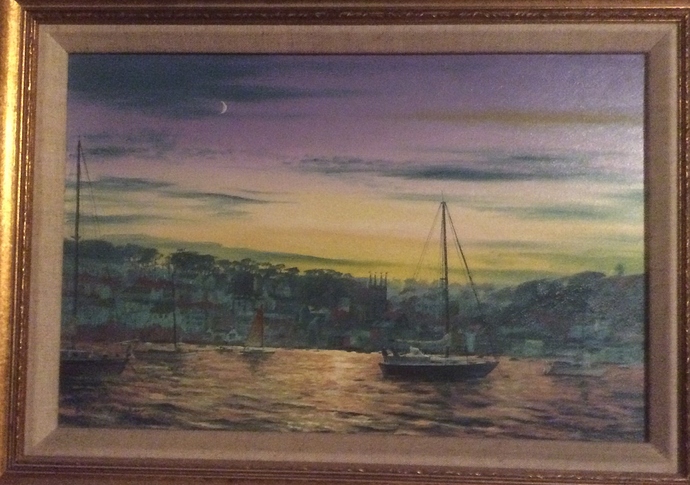 Thats very nice David, talented friend, the new moon is a lovely touch, I am a sailor, I appreciate a tranquille anchorage


Btw, any Idea where it is?
Too many to mention but two black and white photos of my Scottish great grandad I find particularly poignant…One in his kilt with his bagpipes and another one of his 14 children including my gran in the Scottish highlands…frozen in time…they all look happy and windswept but not too long after the photo was taken my gran was put on a train to the midlands and into service…she never saw her mom and dad again…
Now you're not reading my posts.

It's my home town, Fowey in Cornwall where I grew up. It's virtually the view from the mooring where my parents keep their boat.
I knew the artist through sailing. I raced against him for years, visited him at his homes in Falmouth and Rye in Sussex where he was a boatbuilder for a while and although I knew his wife had an art gallery I didn't know that he painted himself.
Sorry David, missed that Matey, only time I was in there with a boat, was in 72, I think, on my way back from my first cruise to the Med, for two yrs, spent a nice night, but I recall being a bit shocked at the cost, to anchor overnight

This is the view from my house in Pomerao, Portugal, on the River Guadiana, painted by an artist friend, 'Richard Sowman', ( he has a website). Hills on the left are Spain, on the right, Portugal, with the River running between to the sea!
P1000505|666x500
'Mucked it up, editing, see below for Picture

If the cost was horrific in 1972 it won't have been Fowey that you visited, possibly Salcome or Dartmouth.
It was 5 quid David, which seemed a lot to lay to your own anchor, at the time

I really cannot see that, the harbour has changed out of recognition since the early seventies with marinas, visitors and the like but back then there was no need to pay any harbour dues.