There's a glimmer of hope on the horizon for all those affected by the flooding in Brittany. The official government
spokesperson, Najat Vallaud-Belkacem, said today that an official announcement declaring a "state of natural disaster" would be made shortly.
This declaration of "un état de catastrophe naturelle" means that insurers will be obliged to pay out those home owners whose policies include natural disaster cover. All those affected will have ten days from the date of the announcement to submit their claims.
In the aftermath of Hurricane Klaus (January 2009) and the subsequent declaration of a "state of natural disaster" insurance claims were supposed to be fast tracked with all those claiming sums of 2000€ and under, having their claims approved automatically. It will be interesting to see if the same thing happens this time.
The red alert in Finistere has been downgraded to orange but tonight's high tide could bring further flooding and the residents of Quimper which has been particularly badly affected, are waiting anxiously to see what will happen.
With more heavy rain forecast for the weekend, several rivers in the region are on a flood warning and cross channel ferry services are being cancelled or delayed.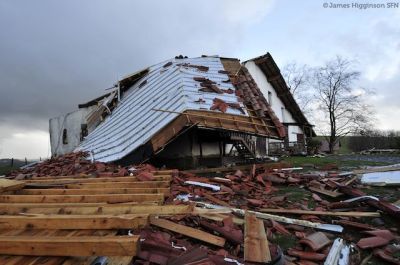 Image - Damage left by Hurricane Klaus 2009