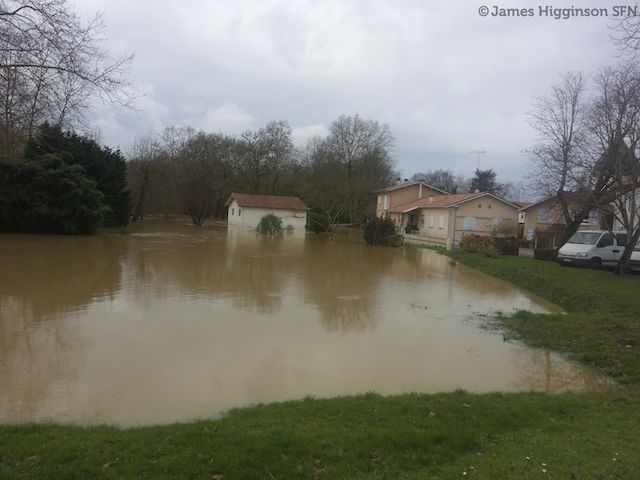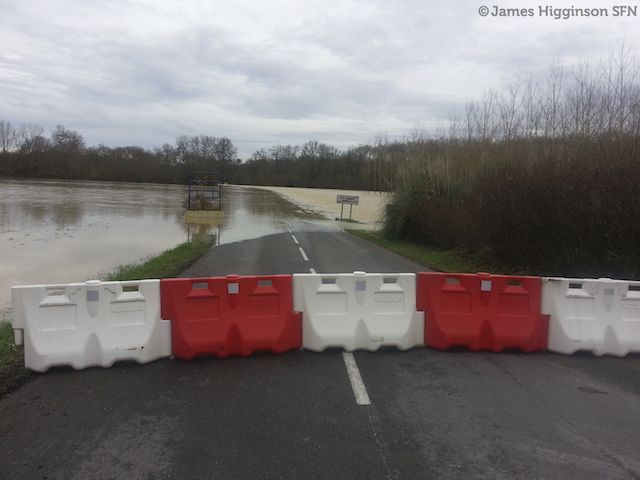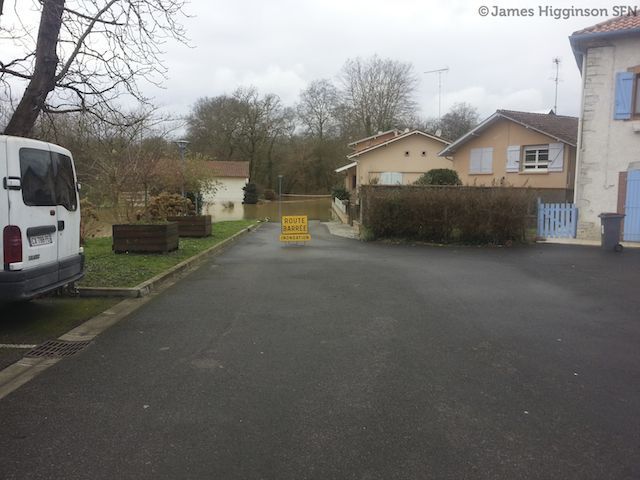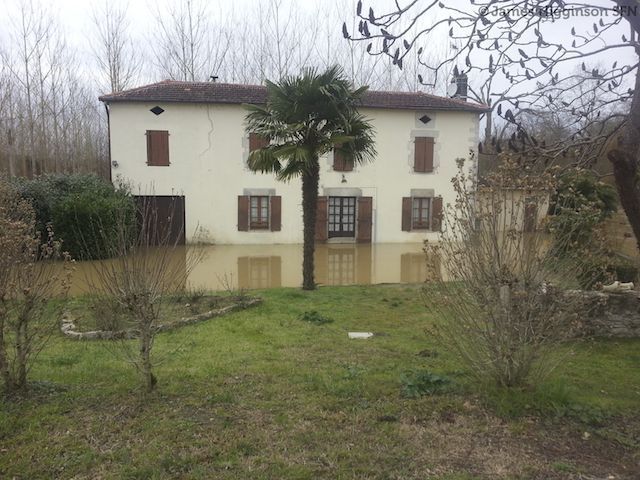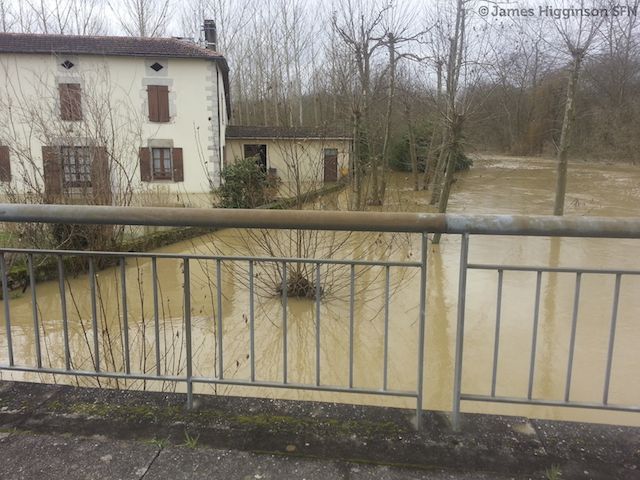 Drove to the Doctors in St Bonnet this morning and as I drove over the little river bridge admired the new lakes that have formed all around. Our well dried up when they built the Autoroute many years ago and cut off the source. Might be worth a look in to see if anything has accumulated.
Following on from yesterday, our well is now on about 3.5m from the top. That means something in the region of 20m is accumulated as the spring flowing underground is too full to take it. The spring at the bottom of the hill, where it would normally take a couple of minutes to fill a cup, is now a real torrent and the fields through to the little river are simply a lake. Luckily the road there is raised on the side of a slope so will not flood, but it is unbelievable to our neighbour who has only ever lived here for nigh on 70 years. When will the rain end?
I drove through Amou this morning and several houses are flooded as well as arena and Market square. I dropped the dogs off at Gamarde Les Bains and then tried to head off to the airport. I got turned by blocked roads all over the place and had to go through Dax, It took a little over an hour to go about 3k through the centre due to flooding, all cars being pushed that way, traffic lights not working and police directing traffic. I really thougth I was going to miss the flight but here I am in Teddington - and it's pouring with rain!!
When we went to Jonzac this morning to pick up tile cement and grout all of the little rivers were full to the brim and running rapidly and in many cases were well over the banks with many flooded fields and gardens. Not as bad as Somerset though I must admit. The Enviro Minister looks to be as much use as a paper bag left out in the rain, we are experiencing at present, and still be expected to hold in a jar of Foie Gras and Caviar, which no doubt would be his normal snack fare while visiting the peasants.
Ian, I feel a cunning plan (quote Baldrick) coming on. I shall get myself a place on the illegal passages to the UK, claim my £40 a week which is as good as my pension when all the rest is given to me. I'll use the capital to buy a fleet of rowing boats...
The mess they are making of the Somerset Levels is dreadful, the political aspects of it perhaps worse than the rest at that. Jokes aside, wherever it is and knowing insurance companies will claim to be 'overburdened' with claims, sympathy to one and all.
Oh goody, goody gumdrops more torrential rain just what we needed. At least some of this will be going into the little reservoirs by the side of the Autoroute. Looks like in the UK they are just pumping it from the fields into the rivers so it can flood further down. Brilliant!! They should be filling up the reservoirs ready for the global warming summer drought not just letting it run to the sea. A slight deviation. Vince Cable Knit has just been on the telly worrying about the illegal immigrants only being paid £40 for a days work on the black market as it is less than the legal minimum wage!! Has he lost the plot completely?
Sorry for everyone having problems with floods. I hate walking up our very steep hill to our house in Eymet, but at the moment I am delighted we are higher than almost anyone in the village.
We went through Amou on Saturday night and the water was half way up the Arenes - very dramatic!
We are in the state now where I can safely say that we have no mud. It is simply better described as brown liquid. Yesterday we measured 28mm of rain in my daughter's weather station,today there has been 12mm. The forecasts up until the end of the first week of February are for more rain than dry. We are almost at the top of a slope, however the rain running off the road in rivulets has been impressive. Our well is normally about 16m down to water level this time of year, now it is 8m. I dropped a plomb line down today to see. No wonder the spring that feeds our well that is normally a trickle into a ditch at the bottom of the slope where it comes out is now a torrent and the ditch indistinguishable from the rest of the field - a lake.
There has been local talk of on the low areas, several hereabouts, the Dordogne could break its banks. There is apparently nobody living who remembers it happening before. I thought Wales was wet when we lived on the Gower, this competes easily.
Being 30 k down the road we are experiencing the same weather and I am SO pleased I live on top of a hill. But many of the fields around Amou are all under water. Not as bad as Somerset though. My sympathies to everyone who is currently living in a lake.
Hi Carol, Ann was a Carer working for Kincare in Bartholomew Street for a couple of years before we came here to live and we probably passed your house at some point as she had loads of 'clients' in the town. She either walked or cycled to them or if winter or late evening calls I drove her round. Kincare were supposed to pay me mileage but never paid up, sods!! She is still waiting on her P 60 and P45 from April 2011!!
Hi Ian...small world! well Newbury station was closed for a couple of weeks over Xmas...had to get on and off of trains at Newbury Racecourse station. We viewed a house in Mardarin Drive once! we are near the town centre now...Enborne Grove...far enough away from water! Thatcham has flooded parts....again. A lot of poor folks dealing with this problem on a yearly basis now.
Hi Carol, we used to live in Newbury for a while in Flats before we came over to France. First in Mandarin Drive by the Racecourse and we could watch the races from out of the kitchen window and listen to the Rock/Pop shows free of charge. we then moved to the town centre at Imperial Court. Neither place was near the river but a lot of the new build in Thatcham was built on the flood plane as was a fair amount of Maiden Early near Reading. I wonder how Tesco and the new flats there are getting on near Reading Station?
The flooding in the UK is pretty awesome too. Somerset, Gloucester area, around Bristol and where we are in Newbury, there has been plenty of new lakes springing up in local parks, but no houses flooding this time around....
Isn't Nature awe inspiring...when we lived in Cornwall I used to love to go to the beach after a storm...sand and shingle from one beach would be moved to another exposing all sorts of wonderful rock formations. Then after the next storm it would all be covered up again. Thanks for the video Victoria...magic.
Luckily we do live on top of a hill and the lane turns into a stream but still flows down and away. My neighbour lives further up the hill but he does keep a boat, if not an ark, in his garden just in case I suppose. Everything is waterlogged and I think the mower would sink if I tried to run it out. The truck sinks going to the barn for wood and if not for the 4WD I would be stuck round the back. Nice ruts though, which I know from experience will be a bugger to go over when cutting the grass again. As noted before good photos but no mention of French floods on the UKTV, much like last time when a fair few of the rivers did burst their banks over here and made for a different scenic viewpoint from the A10 and A83 when driving up to Caen/St Malo.
For once flooding in France is a little tame compared to the poor people in the Somerset levels.
We're on sabbatical in Cotignac, and were amazed to see the normally quiet waterfall near my aunt's place turn into something quite powerful and angry. Love Mother Nature!
I don't care really, up on Mount Ararat I am steadily building an Ark. My only problem is what is a Cubit? That's the only measurement on can find on the thing.