Tuesday 17th May… slowly, slowly

https://www.ouest-france.fr/sante/virus/coronavirus/carte-covid-19-43-727-nouveaux-cas-et-une-amelioration-qui-se-poursuit-le-point-par-departement-4414cb68-d5ff-11ec-9a86-07eb4bd130d9
~Guard your masks safely… in case there is a swift reversal and/or we are instructed to wear them again…
Found FFP2's 2.79 euros in Cahors last week for 10. The boxes of 20 were long gone but didn't cost much over 5 euros.
Given the initial pricing of masks in early months of Covid, this shows what obscene profiteering went on.
Well, that's got you off to a flying start then, if we get another wave…


19th May…
INSEE: the Pandemic resulted in 95,000 more deaths in France than had been expected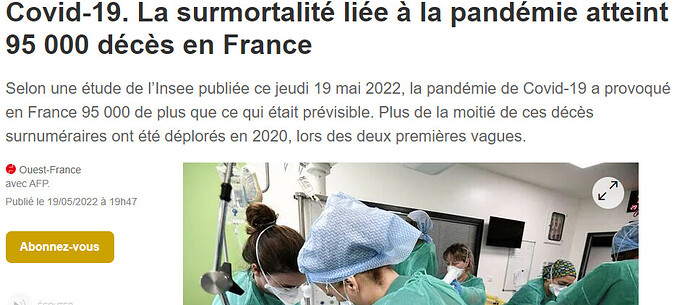 https://www.ouest-france.fr/sante/virus/coronavirus/covid-19-la-surmortalite-liee-a-la-pandemie-atteint-95-000-deces-en-france-ae892bba-d799-11ec-862e-32dcdc637907
On the Plus Side… the pandemic resulted in less deaths on the roads, as people stayed at home/confined … (hurrah)
Par ailleurs, l'épidémie a également réduit d'autres causes de décès, comme les accidents de la route, moins nombreux pendant les confinements.
Figures delivered 20th May


This link lets one choose where to look… for the whole of France.
so if you've nothing else to do, you can fiddle around and come up with details for wherever in France you want to investigate.
I fiddled and found Zero patients with covid in Intensive Care in Dordogne… that is very good news! Sadly, still folk in hospital and folk still dying… but the overall situation is improving.
I know you don't have a smartphone, Stella, but the Tousanticovid App gives you a daily update of case numbers for France and local.
Fair comment for those who have one… as you say I don't and neither do many others.
The reason I started this thread was to provide somewhere where one can see the current important stuff in France (day by day, blow by blow, useful at the height of the epidemic…)
Also it enables folk to look back and see how things have evolved and been handled by those "in power" here.
Things will probably be grinding to a halt soon, but the fat lady has not yet warbled…
When she bellows out her song… this thread will become defunct, but will remain available to view.
Interesting situation yesterday, I attended a house viewing for a UK client with my Estate Agent neighbour who told me he was recovering from Covid and might still be infectious, I know he's desperate for a sales commission and we were all wearing masks and socially distanced but I bet he didn't tell the couple viewing the house.
Hope things turn out well for all concerned.
Au 1 juin 2022 , la France recense 14 850 hospitalisations en cours pour cause de COVID-19 dont 929 en réanimation. Après hospitalisation, 665 161 sont de retour à leur domicile. À cette même date, 148 385 personnes sont décédées depuis le début de l'épidémie.
I know the link has been posted before, but this is the latest info 1st June…
Apparently you are in royal company
Sorry you now appear to have it - hope you come through OK and the symptoms are mild.
3rd June…
Contamination figures are going up… although not yet reflected in hospital entries (thankfully)…
possibly folk are forgetting hygiene/barrier precautions…
Covid is still around… take care.
I'm not surprised. At one point I thought I was the ONLY person in a busy Leclerc wearing a mask. There must have been about a couple of others. Not helped by meeting acquaintances who said they had given up wearing masks months ago. She was coughing. He has no sense of personal space - so I was edging away from them all the time as we talked!
OH and I have a mask at the ready and wear it in the shops and crowded areas.
Just got back from a quick flit… and I didn't see another soul wearing a mask in the nearest supermarket…


On the other hand, all us locals still wear our masks when we collect our orders from the "travelling shop" which visits our village once a week.
Symptoms fine with me, bit of a temperature a couple of days ago but now all's fine. I tested because Mrs W. has all the symptoms and it's floored her.


Waiting for the PCR result to see what flavor it is this time round.
Hope you both recover fully AND quickly.
Friday 3rd June… another hike… this evening's figures 25,130 new cases…