makes very interesting reading…
lots of "possible" exemptions…
Gosh - that's complicated… But thank you for the link to the very informative article.
Seems our camping car is exempt but it is a euro 6 engine and sports a crit-air 2 so comforns anyway.
France is very pro camping cars so the exemption must be to ensure camping cars old and new can go anywhere.
We come across many older ones on our travels.
I had to read it twice to make sure I'd got the hang of it…

and… of course…the bottom line is to check with the local Prefecture in the Department where you will be driving … to ensure that there isn't an unexpected/unwanted "stop" on a particular "exemption"… as they do have the final word on their roads


Agree entirely Stella, local prefecture is the go to source for details
I think just comply with the Crit'air and you won't go wrong.
The Exemptions have been thought through quite carefully, I reckon.
Not everyone is able to change their means of transport to a low enough Crit'air… to allow them to travel freely "wherever".
Thus when needing to enter an area in which, for example, Crit'air says " Category3/4/5 etc is banned "… such folk might well dispair… unless they find they can apply for certain exemptions…
Doubtless, as time goes by… these exemptions will be changed/reduced… as might be necessary… and the Prefecture does have the final word on local roads.
It's good that you're Crit'Air2…
But for the older-type campers… I don't think it is carte blanche…
it is simply the general possibility of them being allowed "In"… in the restricted areas… unless that Prefecture says "Non!" or puts time-limits on such stays…
whatever, it will be helpful during the next few years… when we'll all be trying "to do the right thing…" as best we can. .

I think we'll be reading a lot more about Crit'air etc as these Exemptions are tested…
Another interesting read… where and how to get "the card"…
https://www.ouest-france.fr/environnement/zfe-2-millions-de-vehicules-devront-afficher-la-vignette-critair-ou-et-comment-obtenir-sa-carte-786d57c0-1efd-11ee-990b-509b31c26799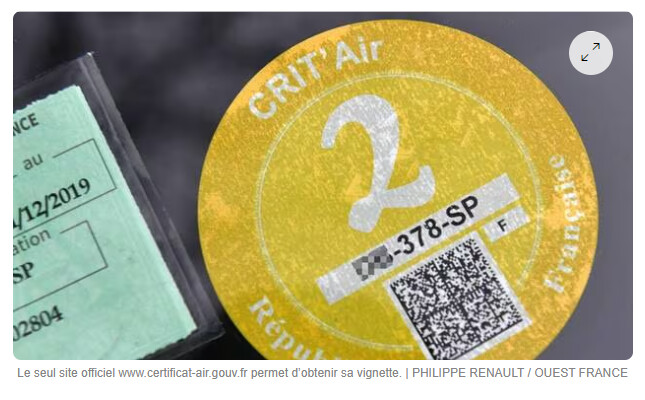 latest blurb out tonight… now I'm rather confused… (but it's been a very hot day .) )