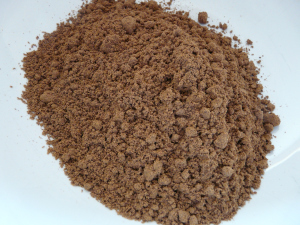 wp-image-1322" height="225" width="300"">


I have always had a fascination with flour.


Probably because my love of bread making, I have waded my way through

pretty much every flour I have come across here, played with it and come

up with something that pleases me to eat.


I have to admit that I was surprised when I discovered walnut flour.


I was visiting the Huilerie

Des Roches In the Vienne. I wanted to try their renowned artisan

walnut oil and went along to get some.


It was no easy feat trying to find the place, and after a long drive up a

track masquerading as a road, I finally found it.


I rang the bell and someone came to let me in and show me round the oil

mill.


Surprisingly small, as I entered there was an intoxicating smell of

walnuts, although the oil is in fact only produced once a year in

November. It seemed embedded in the very walls.


It is situated near the town of Loudin and although a relatively new

enterprise, formed in 1994, it forms a re-linking of an important part

of the area's history.


As far back as 1870, the area was rich in walnut trees and walnut oil at

that time was the only source of oil to cook with.


The advent of the First World War and the subsequent demand for the

precious wood for fine pieces of furniture, saw many of the trees

destroyed and the tradition all but died out.


Modern mass produced oil such as rape, peanut and sunflower saw a sharp

decline in its use, and walnut oil became a little used commodity.


Thankfully, due to the rise in artisan made foods in France, walnut oil

has been produced here and is now the only mill in the area.


I chatted to the owner who was happy to answer all my questions. She

mentioned that should I own a walnut tree, they would produce oil for me

for a small charge.


I hope to persuade my Mother who has a huge tree in her garden nearby to

take her harvest of nuts along this year. I couldn't think of anything

more pleasurable to cook with a product that has a provenance that is so

close to home.


I decided to buy some oil and a bottle of the vin de noix which

is a light liqueur made with white wine and macerated nuts.


However, I spied packets of powder on the counter and asked what they

were.


She explained it was the residual product from the nuts, once the oil

had been removed.


It is called farine de noix desuilée , or walnut flour to the

uninitiated.


I decided to try some and have been impressed with the results. It

produces a dark moist cake with an almost fudge like consistency. It can

be used in small proportions in bread also, as walnut bread is also a

regional speciality here. A basic white loaf recipe can have 25% of the

bread flour replaced to make an excellent loaf. Needless to say it

should be generously peppered with walnuts too.


The walnut oil is excellent to season salads and vegetable dishes. It

does not benefit from heat such as a frying pan, and is better served as

part of a vinaigrette.


If you decide to experiment with the oil or the flour please bear in

mind the following.


The flour needs to be sifted twice as it can have tiny fragments of

shell in it.


The oil is very pungent. Best to make a vinaigrette with just a third

walnut oil and two thirds sunflower oil. If the flavour is acceptable,

the amount of walnut oil can be increased.


WALNUT BREAD.
Follow the instructions here
for a basic white loaf.

Substitute 125 g of the bread flour for walnut flour.

Add 50g broken walnut pieces to the mixture when kneading.

For a better keeping loaf a tablespoon of walnut oil can also be added
to the mix.

Prepare and bake in the same way as the basic white loaf.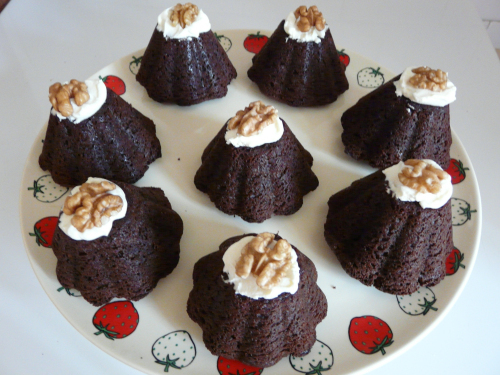 wp-image-1324" height="375" width="500"">


WALNUT FRIANDS
INGREDIENTS
100g plain flour, sifted

100g walnut flour, sifted

3 eggs, beaten

3 teasp. baking powder

175g melted butter, cooled

175g dark muscovado sugar

1 tbsp walnut oil

1/2 teasp vanilla extract.
To decorate
Full fat crème fraiche about 6-8 tablespoons, plus extra for serving.

8 walnut halves
METHOD
1. Add all prepared ingredients to a large bowl

2. Beat the mixture for 2 minutes.

3. Spoon the mixture into 8 mini brioche moulds – I use silicone for
best results.

4. Bake in pre-heated oven 180 degrees c. for 20 minutes.

5. Leave to cool in moulds and turn out.

6. Turn cakes upside down so the smallest surface of each cake is facing
upwards

7. Drain crème fraiche in a clean white cloth to run off some of the
liquid.

8. Spoon some crème fraiche on to the top cakes.

9. Top with a walnut half.

10. Serve with extra crème fraiche.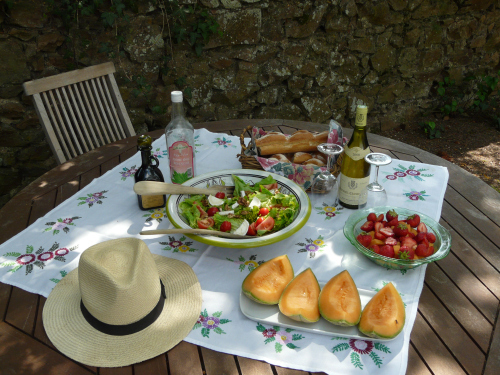 Walnut and goats' cheese salad.
Ingredients
1small lettuce
1 small cucumber

4 tomatoes

200g goats' cheese

100 g fresh shelled walnuts

2 tbsp sunflower oil

1 tbsp walnut oil

1 tbsp white wine or honey vinegar

1 tspn mustard

1 tspn honey

Salt to taste.
Method
To make the vinaigrette, place oils, vinegar, mustard, honey and salt into a screw top jar.

Shake jar to combine.

Wash salad vegetables.

Slice cucumber and tomatoes.

Combine vegetables in a large bowl.

Crumble or cube goats' cheese.

Gently brown walnuts in a dry frying pan and add to bowl.

Pour over vinaigrette.

Toss ingredients together before serving.