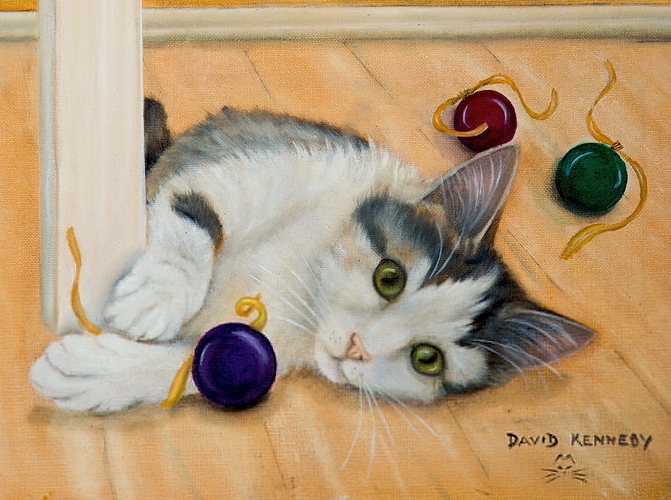 David Kennedy, superb cat artist, has kindly given us another of his outstanding paintings to raise funds for Chats du Quercy. As you can see in this true to life picture, Dave has a rare talent for capturing each individual cat's character, and perhaps you recognise the painting? It is taken from the photo of Tish, kitten adopted in December 2013, which also has pride of place as the cover of our Facebook page!
Chats du Quercy have decided to hold a silent auction for the painting which is unframed and measures 30cm by 340cm. Please send us your maximum bids and the winner giving the highest bid will be announced at the end of Mai.
A painting of this size would normally cost 200€, so -Good luck!
PS We have cards and shopping bags available with this design too - as usual, 7€50 for 5 cards and 5€ for the "natural" shopping bags, please add 2€ postage
A Message from David
So often, people have asked me why I paint cats. I think Leonardo Da Vinci got it spot on when he said, "The smallest feline is a masterpiece".
Admittedly, I have painted other subjects as well, although that was very early on in my painting career and probably because I started off working in watercolours.
As soon as I started painting cat portraits, I realized that watercolours wouldn't work for me because of my style; I try to paint as realistically as possible, and that's when I changed to oil paints.
We moved to France from South Africa in 2008 and for the first few years there was unfortunately little time for painting as we had a house to renovate. As you probably know, renovations can be never ending but at least I now have a few hours left over in the day to pursue my passion.
I deeply admire the work that Lynn and her team do for our feline friends at Chats du Quercy and would really like to help her cause.
Allow me to paint portraits of your cat at a greatly reduced rate, or course, and the proceeds will go to Chats du Quercy. I offer 100% satisfaction, which means if you are not happy with the painting you don't have to accept it.
Even if your dear cat is not with us any more, honour its memory with a portrait painting. All you have to do is supply me with photographs.
To view more of my work, you can go to the following website,
www.southafricanartists.com
and type my name, David Kennedy, into the search box.