The team of nurses who looked after my hubby for the last few months of his life were truly angels. I couldn't have coped without them. The day he died they were my rocks. Amazing women.
Happy Nurses Day to all all nurses.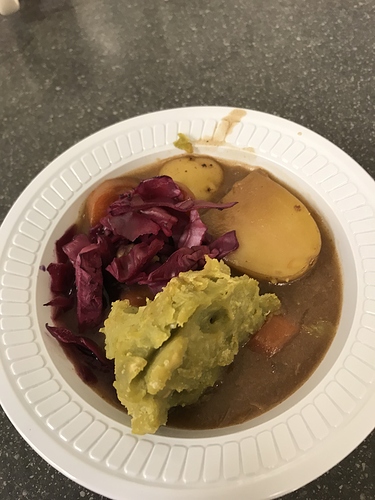 Ward 12 were doing dishes of hot pot and the trimmings for £1 for IND It would have been rude not to
OMG Nellie - you didn't actually eat that did you ?

What's the green stuff ?
As we speak. It's very tasty
LOL - Bon app !

Green stuff is mushy peas
Ahhh right - I'm sure I learnt about them in history lessons…

Pretty standard grub oop north
Looks groovy to me, but I hope it was served hot, and it was served with care, not with gravy splashed round the rim of the plate. When I used to serve the ward dinners in the 1960s (it being the duty of the Sister/Charge Nurse to officiate at the trolley) I always took meticulous care to serve the food with attention to presentation, but I can't say everyone did. Ugh!