With Jules in the empty rear space looking over the corner of the cage, Haska was brought forward to jump in. Both dogs could see each other but there was not a murmur of complaint from either. Talk about give a dog a bad name, poor Haska has been delayed 2 weeks because someone said he attacked females as well as males. Once in the cage both of them briefly touched noses through the bars to dit bonjour. Amazing, and the whole 4 hours of the ensuing journey was tranquil in the extreme.
But first a quick backtrack. Haska was owned by a lady and her longtime partner near Bordeaux. But they never regularised their legal position so, when he died unexpectedly, she was left with no entitlement to the home and, because his daughter wanted it, had to move out. She eventually found a place to rent but there was a catch. No pets, so having lost her partner and her home, she now had to lose her beloved dog too.
I had to go and collect him, during that week when we were limited to 100kms radius of home. She was 103 kms away, so armed with an attestation, which may or may not have been as useful as a chocolate fireguard, off I went. You can imagine the distress I found when I got there, I had made a strict rule, just the dog, his documents, collar and a lead. No bedding no toys no food, nothing else. So faced with the floods of tears and agony I duly loaded dog, docs, collar, lead…and bedding and toys and croquettes. No photos, I just had to get away as quick as I could, for both our sakes.
And so he has been at Sharon's ever since and yesterday was when he finally moved on to his new life. I made the rdv for 1pm at a viewpoint west of the city, despite the view I have never seen more than one other car there but I began to get a funny feeling as I passed Vulcania, lines of parked cars both sides of the road and, visible through the trees, large jam packed car parks. The tourists were out. I did manage to squeeze into the viewpoint though and crossed my fingers that there would still be enough room when the family arrived. They were a bit late, but not much, and continued to badger me to go to a restaurant to eat with them, I had tried my best to decline in a rather confused phone call on my way there. In the end, the only way I could get out of it was to say 'if I eat midday, I will be asleep at the wheel in the afternoon'. Not untrue, in any case I had had my lunch while waiting for them. 1 banana, 1 piece of Cantal Jeune and half an apple.
Haska behaved perfectly with them, I walked Jules around about for a bit with not even a howl at the sight of his erstwhile travelling companion, and then we were off back home.
Latest news is that he has passed a peaceful night in his new home and made friends with the lady Beauceronne/Dobermann X who was waiting for him.
'The Kiss' can just be seen top right of the picture.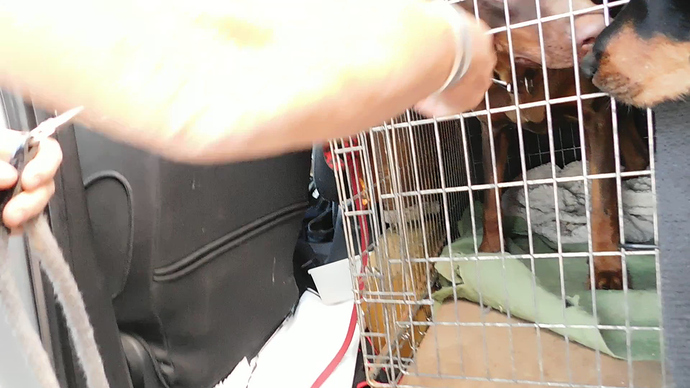 Clermont Ferrand, a nice place for a rdv.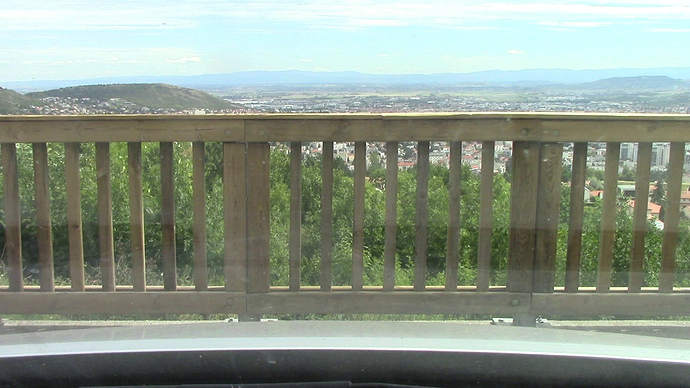 Haska with his new family.