Because of having shutters. Yes it is very irritating.
Irritating is the word.
My house in Bristol faced smack south. I had the sitting room upstairs, so even in winter if the sun was shining it cleared the roof of the house opposite and shone into the room, unlike the room below which was in shadow in winter.
I had venetian blinds on this window. In summer I could open the windows, secured on stays, and lower the blinds. Perfect.
The cottage with the lovely blue paint - see above. I lived there for 13 months and never once closed the shutters. Looked like nobody else ever had, either because the paint on the 'outside' [when closed] was perfect. But I did occasionally open the window. To do that I had to clear stuff off the deep windowsill - books, mostly - to allow the window to open*. IRRITATING!*
Shutters now seem to be more a security feature, being aluminium roller blinds running in channels. Their design gives no ventilation, unlike the trad angled shutters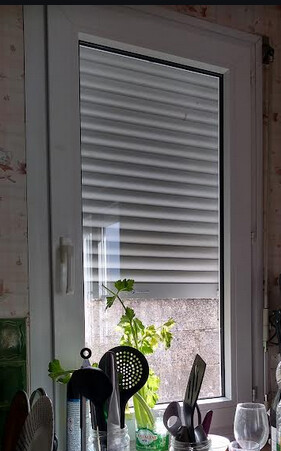 Indeed, but it is much better in hotter climates. We have shutters plus retractable mozzie nets on the outside. You can open the windows with the mozzie nets down and shutters part open to create an air chimney which will ventilate your house, and keep the sun off.
I grew up with persienne shutters with bits that lift up, very typical of the côte d'azur; where I now live on the edge of the Arctic circle in south 24 shutters are quite different.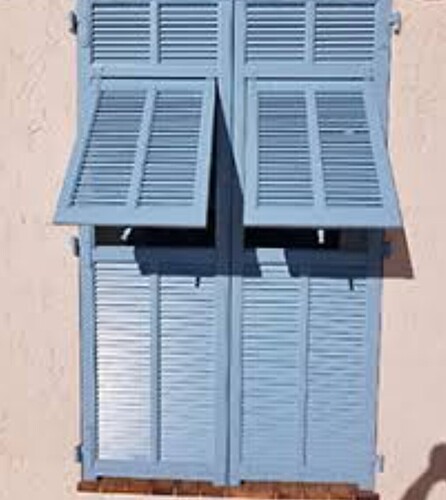 The colour is supposed to keep mozzies away.
In Scotland there were wooden shutters on the inside of the window which folded back against the wall. You can imagine why people might prefer not to have to open the window.
Indeed




In SW7, South Kensington, my lovely flat had double doors 3m high, onto a terrace. Shutters, hinged to fold in half, folded back into recesses.
They were solid shutters so when doors were open, for privacy I had a roll up blind of split cane. This kept the eyeballing of the girls' school opposite to a minimum. They still used to drop notes in, inviting my flatmate and I to parties.
Jailbait

That's exactly what I was thinking of and described inadequately.
Queen's Gate?