What a lovely post. How nice to know there are still people who believe in random acts of kindness.
That's very kind of you, Michael - thank you.
After looking for premises for a while, without any real success, and eviction looming, it occurred to me that I'd be eventually put out on the street, which is a horrendous prospect for both me and my dog. I came to the conclusion that if I could at least find Bella a home, temporary or otherwise, it might be easier for me to find accommodation.
I think a solution may have been found, at least in the short term, as my wife who lives in a mairie rental flat (and who is keen for a reconciliation) has invited me to move in with her. It'll be cramped, and a test of our commitment, but it is a solution, and I am very grateful to her.
Hopefully, when I can recover the funds for the sale of my property (my avocat is going to apply to the court for a bailiff to seize the money from the notaire), we can move on to something more suitable.
So for the moment, things are looking more positive.
I'd like to express my appreciation to you, and everyone here who has been willing to help. I am touched. Thank you all.
It looks like things are moving on, Chris - I'm pleased for you (and Bella).
Please be assured that my offer stands, whatever develops.
Please keep me posted, either through the Forum, or by PM if you prefer . . . .
And thank you for your lovely message also, Jane - I'd take you in off the street too, any day, if you needed it!!


I love SF

I am pleased that this is heading towards a solution. I was told NO by my wife, (and as always she is right).
We lost our beautiful 13 year old Border Collie Meg a couple of months ago after her health deteriorated over about 18 months. It is still so sore and I miss her so much. Many tears have been (and will be) shed - this is the first time I have written about it.
I wanted to help out for Meg's sake but with a new job neither of us are at home enough now so best that we don't get involved but it was certainly considered.
So sorry Mat. I know all too well the pain of losing a furry friend.
Izzy x
Thanks for the kind thought, Mat.
Sorry for the loss of Meg.
Chris
We too lost our border collie Leah three weeks ago.
She was having so much trouble with her hind legs giving way and doubly incontinent.
It was a hard thing to do but for the best.
We do miss her as she was our alarm as to who was passing in the lane.
Very quiet now.
Dear Jane and @Mat_Davies I am so sorry for the losses of Leah and Meg. It is horrible losing a faithful companion of so many years. Sending lots of kind wishes and strength to both of you.
Sorry to hear about this.
A few months ago, I had to find a new home for my parent's dog.
The thing I did was to put an add on leboncoin, clearly specifying every qualities and defaults of the dog, and stating that it could be adopted only after a two months try, after which if we both agreed on the situation, the dog would stay in his new home.
To make things more formal, we signed an agreement on this. I also did not accept adopters that required to get the dog right now, and asked that they wait for a few weeks (and so, my parents could see it once more).
We paid a couple of visit to the dog's new home during these 2 months, and checked he was happy, as well as the adopters. This allowed us to get rid of non serious people, that would have taken it without proper consideration (and there were some).
There is a risk that after the try delay you are back with your present situation, but making everything tough at the very beginning limits this possibility.
Also, the chosen adopters used to have a dog, which died a bit before adopting ours: this insures that they knew how to care for a dog, and which constraints this implies.
It's 12 years since my beautiful Collie died. She didn't make 10 y.o.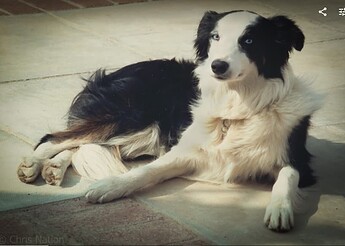 There is still not a day when I don't miss her. She was not a pet. She was a companion. She had a remarkable effect on people when they met her. "It's like meeting a person" my mum's next door neighbour used to say.
A friend maintained that she was a bhodisattva. One meaning of bhodisattva is a being who has reached nirvana - enlightenment - but chooses to continue to inhabit a physical body and remain in the physical realm for the benefit of mankind.
On a more banal note, another friend used to say, "It's all right for you. Your dog is going to be Prime Minister". He had two brainless Schnauzers.
I am sorry to see you are having a problem with your lovely dog, and I am sorry I cannot offer a solution, however could not resist a reply as we were friends quite some time ago when you were in Correze. I am still in the Vendee. I do hope things get better.
Oh no @Jane_Williamson and @Mat_Davies condolences to you both, it's always grim and sad even when it's the right thing and the right time.

Leah was amazing. She had been maltreated and yet she was warm and loving. She was frightened of beer bottles being opened. Presumably because they had then been thrown at her or something like that.