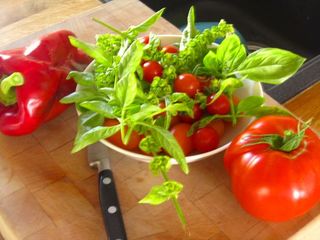 "Summer" tomatoes are still growing here, even though the trees are going gold (though today, we sat outside in the sun for lunch in bare feet, but ça, c'est exceptionnel).
Which has me thinking about mayonnaise. The very first time I tasted homemade mayonnaise, I was 20 years old and lunching at a friend's house. She served it with homegrown tomatoes and it was le paradis. It in no way resembles the stuff in a jar.
Now I must tell you that some American expats tuck jars of Hellman's into their suitcases and bring it to France, saying they don't like the French stuff. But wait–"mayonnaise", doesn't that sound like a French word? In fact it seems to have originated in Spain, but it was the French who popularized the famous spread, long ago.
Mayonnaise in France looks and tastes different because they put a lot of mustard in it. But down there on the bottom of the supermarché shelf, you can find mayonnaise sans moutarde if you like.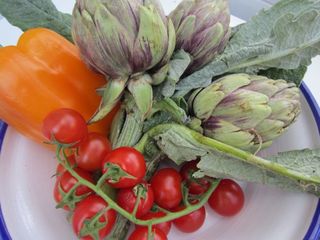 But skip the jar, it's SO easy to make your own mayonnaise! I made a big batch this week for the last gasp of the summer tomatoes. Plus, it's the Little Black Dress of sauces. This is what I did with the rest of that special sauce:
–Added fresh herbs (and mustard) and made a sauce for salmon.
–Stirred some into French dressing #1 and made a BLT salad with creamy dressing.
–Mixed it with smashed avocados and slathered it on a baguette sandwich with cruditiés, boiled eggs, and arugula.
-Used it as a dipping sauce for steamed artichokes.
Summer tomatoes will soon be a sweet memory---better get cooking!
RECIPE: Homemade Mayonnaise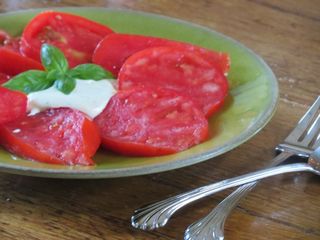 I use this recipe from Epicurious. Purists beat it by hand, but I make it in the food processor. You can add as much mustard as you like.


1 large egg yolk*


1 1/2 teaspoons fresh lemon juice


1 teaspoon white wine vinegar


1/4 teaspoon Dijon mustard


1/2 teaspoon salt plus more to taste


3/4 cup canola oil, divided


Combine egg yolk, lemon juice, vinegar, mustard, and 1/2 teaspoon salt in medium bowl. Whisk until blended and bright yellow, about 30 seconds.
1/4 teaspoon measure and whisking constantly, add 1/4 cup oil to yolk mixture, a few drops at a time, about 4 minutes. Gradually add remaining 1/2 cup oil in very slow thin stream, whisking constantly, until mayonnaise is thick, about 8 minutes (mayonnaise will be lighter in color). Cover and chill. do ahead Can be made up to 2 days ahead. Keep chilled.
Variation:
To make aioli, add 1 minced garlic clove to the egg mixture, and substitute extravirgin olive oil for the canola oil.
* Raw egg is not recommended for infants, the elderly, pregnant women, and people with weakened immune systems. To avoid the risk of salmonella infection, you can use pasteurized egg yolk instead.
Now, something for everyone this week:

FOR SHOPPERS, especially Francophile ones: Take a deep breath, you are going to get very excited when you see our reader Lidy's fabulous site, French Garden House. Magnifique! AND our great friend Belinda, who stayed at the château many months, has started an Etsy store with all the French flea market finds that we all love! Check it out right here.
FOR AUTHORS AND WANNABEE AUTHORS: There is an expanded version of my recent article on self-publishing this week at The Daily Basics. And, our own reader Kim Defforge of 24/7 in France on the Riveria has written a must-read for you too: How To Write Your First Book: My Personal Step-by-Step Guide.
FOR READERS: Favorite Reads. Speaking of Kim's book, above, you may want to check out her other two: Solitary Desire: One Woman's Journey to France and Sun, Sea & Savoir-Faire, about travel on the French Riviera. This week Barbara Redmond of A Woman's Paris interviews author Rosemary Flannery on her new book, Angels of Paris: An Architectural Tour Through the History of Paris.
FOR ARTISTS: Our American artist in Italy, Patricia Glee, has a new website, showcasing her extraordinary work. Felicitations, mon ami!