Anyone on the Forum come across an "interesting find"… here, there or wherever… ???

I found a dessicated dog in a roof
Found a horse shoe in the garden, it's on the wall, right way up, so the 'luck' don't fall out

Think there was a tradition/superstition, re animals left in walls etc when building places???
I used to live just down the road from Vindolanda, spent many a happy hour on digs around the site in my younger days!
Not exactly a find, but an unusual bequest from the widow of an old Buddhist friend, after her own death. This standing Buddha-figure is made of metal and seems to be gilded, as it has never tarnished. I believe it to be quite ancient, and authentic, as my friend was a Buddhologist and didn't accumulate tat.
Where could I get it's provenance authenticated and its value estimated?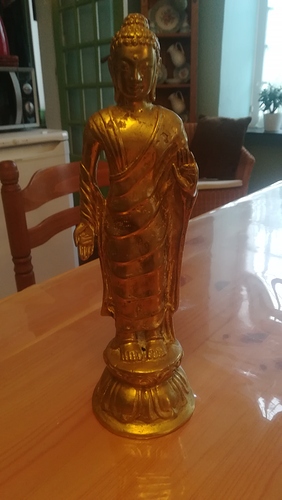 Maybe directly at the auction ?

Thanks for the tip. I tried a few jewellers in UK but did not really trust their opinions as to the gilding which, though primitive, seems to be real hammered gold.
Maybe worth sending a few pics and description to Southeby's Pete, Mam did that with a Dutch oil on copper She had, good result