The front bench resignations begin!
Rats and ships come to mind.
He is dog food.
Andy
It does seem that the wheels are coming off.
Positioning for their own bids for power…
Yes unless they distance themselves from him now they will have no credibility to stand as leader.
Steve Barclay being rumoured for health sec, along with Truss as Chancellor.
Just in case anyone thought it could not get worse.
Four other minor ministers have also thrown the towel in - Nicola Richards, Saqib Bhatti, Jonathan Gullis and Bim Afolami - no, no one else has heard of them either

Edit: make that five, Virginia Crosbie; still not ringing any bells though.
Zahawi as Chancellor.
He will do Johnsons bidding - less taxation, more spending and borrowing…
Barclay as Health Sec though.
This is a cabinet of desperation.
and he was bleeding useless at Education

I was thinking that the choice of replacements would say as much about who wasn't being chosen (ie, those who would refuse to board a sinking ship) as those who were. But I suppose it's a shrinking pool.
Dumb and dumber. He couldn't reassign Truss because she's supporting his "saviour of Ukraine" diversion and also doing a fine job screwing Northern Ireland to keep the ERG happy, as is Patel bashing refugees for the same audience.
So, that's another nail in the economy's coffin and as for Barclay, words fail me.
Solicitor General has just gone.
The only one I'd heard of… But only because a) he said something embarrassingly stupid a while back about people using the term "white privilege" are being racist, and b) you often see him sat behind Johnson during PMQs shouting like a deranged Neanderthal at the Opposition.
This is him… He seems a lovely chap.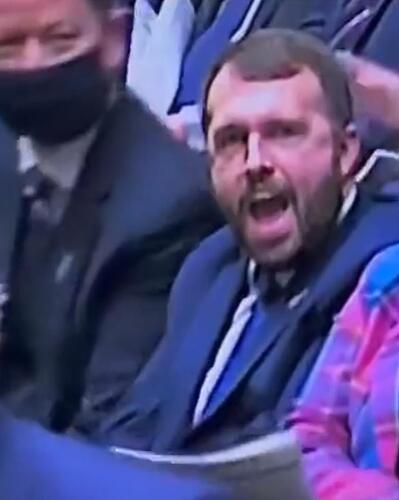 I foresee a snap GE and Stamer having to put his Big Boy Pants on to lead a Labour/LimpDem coalition government.
That'll be interesting to watch from a safe distance.
I think we could see some 'sweeteners' now being pumped out by Boris et al to try and win favour in the dying moments. Anything linked to softening the economic blow for folks will suddenly create quite some myopea and who knows, may give Bozo a boost - frankly, anything is possible, judging by the previous history in the seedy world of politics!
Zahawi admitted to sticky fingers claiming expenses for heating his stables.
Chancellor of the Exchequer? Have they all gone mad in the UK?
He is the MP for Stratford upon Avon. Was the claim for the stables in his London address or hìs home elsewhere?
Surely if you don't approve of this you must write to your MP and tell them so.
waste of time in my case… my MP is the hapless (not so) Cleverly

Looks like he blackmailed Johnson with a threatened resignation if he didn't get number 11. So much for best person for the job.
he was bleeding useless at Education… can't see him beng any different at Number 11 (although, with the 1922 Committee poised to make the rule change as soon as today, he could be gone soon).