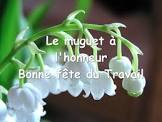 And lily of the valley isn't a real lily!
Otherwise what's there not to like…
Up the workers

We had enough out to give a little bunch to our neighbours.
I have had a small bunch by my bed for the past three days.
A b it more sunshine and warmth and we will have a wonderful show.
This explains the bunches we saw yesterday being sold in the village shop, and also one placed on a doorstep.
Sadly not, but maybe another year.