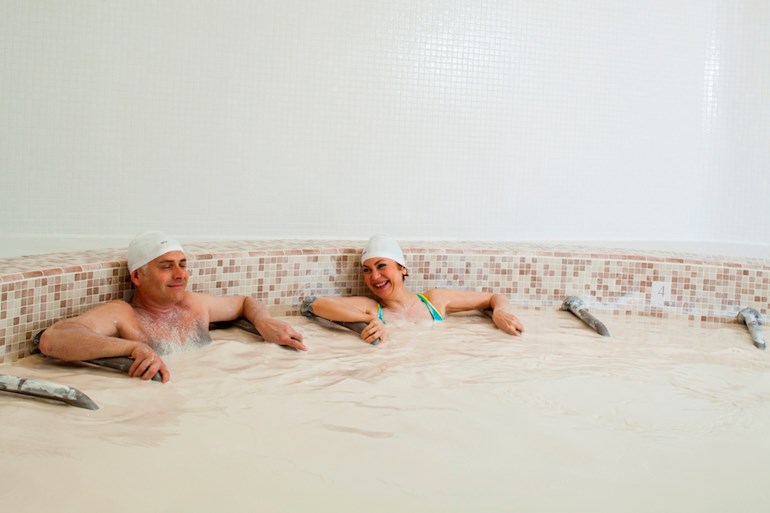 `
Just in case others might be tempted, a blog about my "cure" experience. And it was an experience!
Step one is an appointment with a doctor who decides your specific recommended treatments. You can't start your cure without this doctor's prescription. And you have to have a second appointment mid-cure to adjust the treatments if necessary, and a final one on the last day to evaluate how it had gone. I was quite impressed that the doctor did examine me quite carefully, more so than my GP or rheumatologist usually do. But it does seem a rather luxurious use of doctor's resources.
So each day I had 5 timed treatments, starting with hot (and I mean hot) green clay packs slapped on to to back, neck, hands and feet for 10 minutes. Then a 10 minute bath in hot thermal water up to my neck with jets pummelling me, then being immersed in a mud bath for another 10 minutes and finally fine jets of thermal water on hands and then feet. There was the option for icy cold showers at the end of every treatment, to stimulate circulation, but I decided my circulation was just fine as it was.
You have your personal cure card, which is ticked off at every treatment, and you stick to your timings or get told off. You have to do the full 21 days, or have a doctor's note to excuse you for a session, otherwise social security will not reimburse you. And you keep your cure card in your transparent cure bag, along with your cure cup, and your bonnet and any other essentials. So the town is full of people wandering to and fro with their identical cure bags. There are strict requirement about the type of shoes you have to wear (which must never, ever be worn outside) and swimwear. Boxers are banned, but bikinis seem to be ok even on people who quite frankly should know better. And there was a delightful range of charlottes (swim caps in my language) from austere to floral and frothy.
But they have strict hygiene testing, and apparently have to close immediately if bacteria are found so I understand why they get fussy about hats and shoes. And all the equipment is cleaned between each person.
My daily start time was 12.40, along with about 20 other people. So you do get to know your cohort as the days go by, and can have a bit of a chat in between treatments and as move between them. Some things, like the mud bath, are collective as there are a dozen of you at a time - but no talking is allowed! However it is all very friendly, and the staff were generally lovely and helpful. With the number of people they process every day it is remarkably slick, but without seeming that you are on a conveyor belt as plenty of corners for you to relax in with loungers and drinking fountains.
Because you are all in identical white towelling robes, with your identical cure bags, it feels very egalitarian. And a wide cross-section of people. The majority are of mature years, with some extremely mature. However I encountered young children, young adults and people with all sorts of different ailments, as well as some who seemed to have no ailments at all! Both staff and curists are fairly evenly split between the sexes, which again makes it feel quite comfortable. And nobody seems to care about body image…which I particularly appreciated when climbing out of the mud bath with a swimsuit full of mud dragging behind me. Elegant it is not!
I did also try a couple of the other treatments and health options just for fun. My favourite was the thermabike - 40 minutes of static underwater cycling in a hot swimming pool with a trainer leading you to alternate speed and rhythm and add in arm exercise with balloons that went everywhere.
I had few expectations that it would make a major difference, but am pleasantly surprised that I do feel better. My joints do feel a bit more flexible, and less achy. And my skin feels great. No way of telling how much is down to spending three weeks in mud, and how much due to a relaxing holiday somewhere new with friends and family. But I'm not going to quibble.
If you are tempted, just be aware that you need to start the process a long time ahead. You have to get your doctor to fill in the request, and send it to your caisse for approval which took about 2 months. However unless you want to do a cure very early in the year, your request must be dated after first Jan. So you have to book your place at the Therme before getting the paperwork in place. And generally people book up a year ahead, so if you delay you end up like me getting the unpopular lunchtime slot as that's all that's left, and having few choices of dates. But if you are arthritic you might well enjoy it…and there were lots of husband and wife couples…