What a shame it's not
"PM Johnson has balls cut off, & is left to bleed out"
His CP team will be at Le Jobcentre demain matin.
I'd personally like to give Tony and Cherie Blair a big hug. Whilst wearing an SVIED, of course.
By the sound of it, a pretty erudite slapper (a far-right hardcore Gilet Jaune, it seems), as he shouted "Montjoie ! Saint-Denis !" before lashing out. The man is a royalist fanatic and, according to huffingtonpost.fr, this royalist rallying cry is apparently an "exclamation fréquemment reprise par l'extrême droite". It must have felt like being in the cult film Les Visiteurs…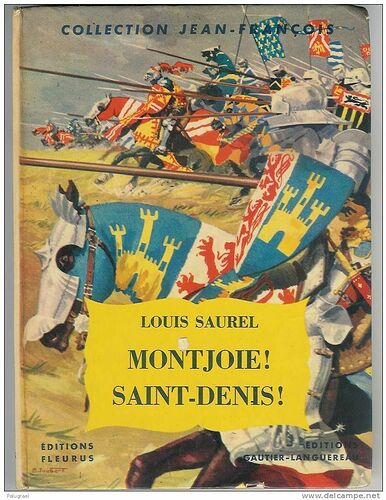 At any rate it's a welcome change from "Espèce de pourri" or suchlike unimaginative insult I say. Good news, the IQ of French slappers is on the up, French history teachers are doing a good job!
Echoes of Manuel Valls being assaulted by an 18 yr-old Breton independentist in northern Brittany during the 2017 presidential campaign (before assaulting Valls, he shouted "Ici, c'est la Bretagne"):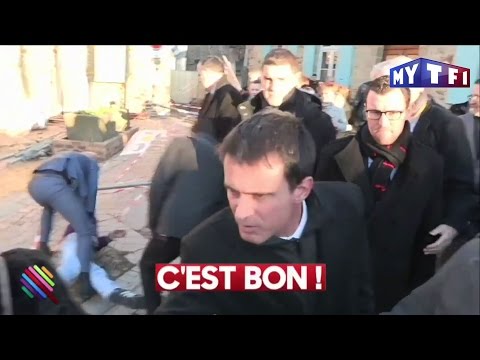 His Facebook profile also showed that he was a fan of that ghastly Holocaust denier fascist Dieudonné. (the young Breton separatist that is, not Valls…).
Echoes too of François Bayrou (the veteran centrist partly thanks to whom Macron was elected in 2017, I wrote about it a while ago here) slapping an 11 yr-old kid who was picking his pocket during a walkabout in the 2002 presidential campaign.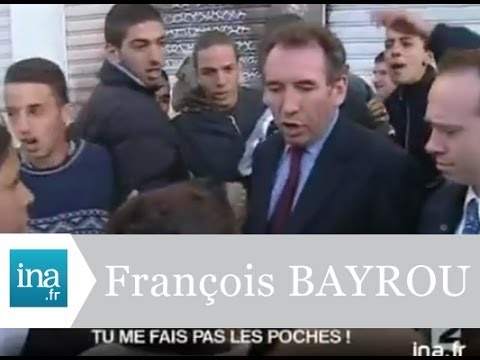 Ironically, Bayrou that day was visiting a tough estate in Strasbourg to address law and order issues with the long-suffering residents. The kid, who would turn to crime, was then nicknamed "Bayrou" in his estate… Being called "Bayrou" as a teenage criminal, wow, the ultimate "h'chouma" as they say in those cités!
Le jeune homme, surnommé «Bayrou» dans son quartier depuis la fameuse claque filmée par les caméras en 2002, compte déjà six condamnations à son casier judiciaire,
I don't think it can ever be right really…he's extending the hand of friendship and then gets slapped in the face…
(But then I'm also thinking back to Farage and milkshakes and Bill gates and custard pies…so maybe I need to check my moral compass

)
Manuel Valls who, incidentally, is back from his pathetic attempt to run for Barcelona mayor (his native city) and is now dead keen to "play a role" for 2022 – i.e suck up to Macron to get a ministerial portfolio if Macron is re-elected (I doubt he'd appoint him minister though, they've never been close - although they were colleagues in the second gvt under Hollande, from 2014 to 2016, when Valls was prime minister - and I doubt that's changed but who knows).
Valls relinquished his MP seat in his Évry fiefdom in Sept. 2018, so only a year after being narrowly elected, after engineering his eviction from the from Parti Socialiste in May 2017 (after 30 years in the party) to defect to Macron's LREM party (Valls had previously failed to win the Socialist primaries in January 2017), as part of the raft of rats who were leaving the sinking PS ship. Valls resigned from his MP position to run for the Barcelona mayorship but he predictably came a cropper (under the rightwing Ciudadanos banner) and barely recorded 10% and ended up with a councillor seat, from which he recently resigned… But at least the doomed venture wasn't a complete waste of time as he married the daughter of a Spanish billionaire while he was living in Catalonia.
And John Prescott and the egg.

Sounds like the scene from Germinal.
I understand that he's also being investigated in Catalonia for election fraud for misspent funds during his campaign…what's not to like

I think all politicians could do with a slap occasionally - might bring them back to reality and consideration that they are there to serve the public, not the other way round.
Yes. I thought Macron (who I am a bit of a fan of) was quite lucky.
Yep: 189 500 euros non déclarés… De plus, note le rapport, le parti de Manuel Valls, Barcelona pel Canvi, et son allié du centre droit Ciudadanos ont dépensé près de 189 500 euros sans les avoir déclarés.
What's infuriating here in that Valls clearly considered being an MP in a deprived area way too beneath him once he'd lost his premiership in Dec. 2016 (he was MP in the Évry-Corbeilles Essonne constituency, south Greater Paris – Évry, where he was also mayor for 11 years in the Noughties and where he was épinglé (slated) by the Cour des Comptes for his lavish spending/mismanagement, eg: Dans une ville de 50.000 habitants comme Évry, par exemple, seul le directeur général des services est censé disposer d'une voiture de fonction. Or la Cour des comptes notait, dès 2006, que la commune en mettait 26 à disposition de ses agents, sans compter les 45 véhicules "de service".)
He resigned only 15 months after being re-elected by a whisker (137 ballot votes) to focus on his doomed "project" of being elected mayor of Barcelona under the "Barcelona pel Canvi" banner (Barcelona for Change), a micro-party he created and which was strongly allied to Ciudadanos, the centre-right anti-(Catalonia) independence party.
Valls is so farcically big-headed and disconnected that he genuinely thought he could win in Barcelona whereas all polls were clearly telling him that recording even 10% would be good. A couple of minutes spent asking people in Barcelona would have told him that he was a complete numpty for thinking he could win. For starters hardly anyone knew who he was, never a good thing in an election… And so it proved, he came 4th (13%. "Une déculottée" – a tonking – wrote the centrist weekly Marianne).
He was immediately dropped by Ciudadanos (who had been severely misguided in the first place to bet on him to put it mildly). But I suppose to Valls's credit, his surprise candidacy did upset the local apple cart as he ended up being a bit of a kingmaker in enabling the Left to win that election (that's also why he was dropped by Ciudadanos, he'd actually favoured the Left but more fool them to have bet on this loser).
quite - it could have been knife!
I've learnt a new word thanks to this baffeur: "thanatopraxie"
[…] Damien Tarel vit de petites missions d'intérim après avoir entamé, sans les achever, des études de thanatopraxie](Macron giflé: qui est Damien Tarel, l'homme interpellé?).
Thanatopraxy refers to the art, the science or the modern techniques allowing the preservation of human cadavers from decomposition by the destruction of pathogenic microorganisms, in order to present them with a living appearance for public and private viewing for the funeral.
This incident happened in Tain-L'Hermitage so it's now referred to on social media as "la tarte à Tain"…
(une tarte in colloquial French = a slap, a smack)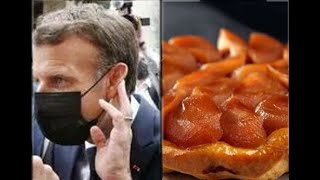 Valls is such a megatwat it is barely believable

I hope some day I meet someone who loves me as much as he loves himself.
"Tarte à Tain", excellent !
I happen to know what thanatopraxie is, my office building houses a training organisation for funereal service providers.
That should be "Corbeil-Essonnes" of course (not Corbeille, as in basket), although Corbeille would be a fitting spelling as under the mayorship of the bent multi-billionnaire Serge Dassault (1995-2009 -afterwards the town was run by his protégé J-P Bechter), Corbeil was an absolute basketcase, due to his vote-buying shenanigans and extreme brand of clientelism. The sums at play (tens of millions €) soon turned the town into the Wild West (eg this) as gangs and groups masquerading as "cultural associations" vied to get their hands on this manna from heaven.
Dassault was still a senator at age 92 and died in May 2018 (aged 93), shortly after being made ineligible for public office for 5 years (about time…). But being declared ineligible at 93, well, ça lui faisait une belle jambe of course, he cared not a jot.
There's vote-buying and vote-buying Dassault style. Police investigators established that Dassault for instance once gave away a cool €55 million (cash, mostly) in a couple of months, to finance bogus associations and "projets" in Algeria and Morocco, and also to get protection (he was also blackmailed into it). Things spiralled out of control and Dassault, well into his eighties, found himself physically threatened, right in his own Town Hall office, by the very people he had corrupted, hoisted by his own petard… (2014: Serge Dassault a déposé une nouvelle plainte en début d'après-midi, lundi, pour "menaces" et "tentatives d'extorsion").
In his mad bid to be the most popular politician around (running Corbeil was mainly an ego trip for Dassault), he'd turned Corbeil into a unmanageable town.
«On n'a jamais vu en France une ville livrée à un tel degré de corruption et de décomposition civique.»* La charge du Parquet national financier (PNF) est sévère, délivrée lundi après-midi, dans la dernière ligne droite du procès pour «achat de vote», entre 2009 et 2010, visant la gouvernance municipale de Corbeil-Essonnes, avec Serge Dassault en tête d'affiche. Le milliardaire (4e fortune française, 41e mondiale) étant décédé début 2018, seuls ses missi dominici sont désormais poursuivis à sa place, Jean-Pierre Bechter, maire consort de la ville, et Jacques Lebigre, homme à tout faire localement, avant que leur opposant historique etc.
[French police question billionaire Serge Dassault over alleged vote-buying
World's 69th richest man suspected of buying votes in three mayoral elections that he and associate won in Paris suburb](French police question billionaire Serge Dassault over alleged vote-buying | France | The Guardian)
---
Shootings, corruption and video tape - French billionaire Dassault faces custody in vote-buying inquiry
[quote="Alex_Thurgood, post:19, topic:35335, full:true"]
I happen to know what thanatopraxie is, my office building houses a training organisation for funereal service providers. [/quote]
Nice one!
[quote="Alex_Thurgood, post:19, topic:35335, full:true"]
"Tarte à Tain", excellent ! [/quote]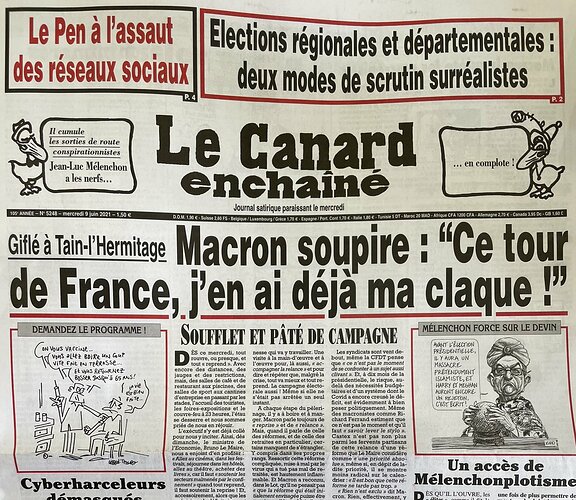 [en avoir sa claque (de quelque chose): to have had one's fill of sthg, to be sick and tired of sthg etc. ]