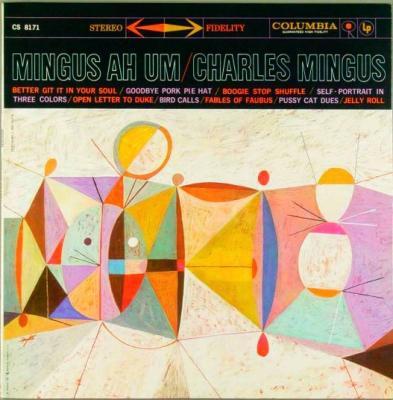 My graduation from Fabulous magazine to the Melody Maker marked a transition from the Rolling Stones to the wonderful world of 'progressive music' – or prog rock as we now prefer to call it. I took my music a little more seriously and, being an anally-retentive teenager, would read my weekly music journal from cover to cover.
Towards the back cover of the Melody Maker, not far from the small ads, came the jazz page. It was edited by an older looking guy in black beret and glasses called Max Jones. I subsequently learnt that he was the first jazz musician to become a professional journalist. I didn't know many of the names that appeared in his column, but I noted how the name 'Mingus' would appear on a regular basis.
Later on, I gave up the venerable Melody Maker for the more upstart New Musical Express, which seemed to be staffed by younger journalists more interested in the younger music that appealed to me. Although I didn't forget the name Charles Mingus, it was quite a bit further down the road before I took the chance to gauge what Max Jones was on about.
I had imagined someone whose music would be as intimidating as his bear-like frame – and his overweening personality. Mingus was a difficult individual, as befitting a creative genius. It seems that genius always demands a price to pay and it was his several wives and his faithful sidemen – and sometimes his audiences – who had to pay the lion's share. He was the band leader and exacting composer who wanted things done exactly his way.
Built like a human version of the double bass he played, often with surprising delicacy and finesse, he wasn't the kind of person you'd argue with. There were stories about eruptions and fist-fights on stage. Notoriously, he took a swing at his trombonist Jimmy Knepper during rehearsals, broke his tooth and permanently damaged his embouchure. It's a measure, though, of how much leeway genius is granted that Knepper returned to the fold right at the end of Mingus's short life and continued to play for Mingus Dynasty, a band dedicated to the promulgation of their dead leader's compositions.
So it was with a little trepidation that I bought Mingus Ah Um when it came up in a HMV sale. I didn't even know how you were supposed to pronounce it. I still tend to refer to it literally as aaah ummm, even though it probably signifies the sound of a throat clearance. But then Mingus liked to tease his audience in this way. It was the music that mattered, not so much the title – which probably accounts for things like 'Orange was the colour of her dress and then blue silk' and 'The shoes of the fishermen's wife are some jiveass slippers' (or 'Slippers', as it tends understandably to be abbreviated to).
But there was little to worry about. Mingus Ah Um was made in the annus mirabilis of 1959, the same year that witnessed Kind of Blue, and it shares the latter's 3M stamp of approval: memorable melodic music. Actually, 4M, if one adds the adjective 'marvellous'. It was made by an eight-piece band, hand-picked graduates of Mingus's 'university', the Jazz Workshop (or 'sweatshop', as it was sometimes dubbed). With a tenor, two altos and two trombones, the collective sounded – on numbers like the heavily gospel-influenced opener, 'Better Git it in Your Soul' – like a feisty little big band.
If the little big sound would become a hallmark of Mingus's music over the years, so did the contrast between the rumbustious opener and the exquisite track that followed. 'Goodbye Pork Pie Hat' was Mingus's elegy for Lester Young, the Prez: a beautiful number that inspired many versions, including those by Jeff Beck and Joni Mitchell, who added lyrics on her tribute album, Mingus. Typically, it's followed by a short sharp musical shock: the brilliant 'Boogie Stop Shuffle', which would have made fine incidental music for a Bullitt-style car chase or a French nouvelle vague heist film.
Shade and colour characterise the man's music. The frenetic 'Boogie Stop Shuffle' is followed by the gorgeous, melancholic 'Self-Portrait in Three Colors' – every bit as exquisite in its way as 'Pork Pie Hat' and arguably more so, given its under-familiarity. The final track on the first side, 'Open Letter to Duke', makes it clear just how important the influence of Duke Ellington was on his music. These are, above all, compositions. There are solos at times, but the music never mirrors the clichéd jazz format of: statement of theme, solo improvisations around a theme, and re-statement of theme.
Four tracks grace Side 2. The opening 'Bird Calls' is a three-minute belter, presumably written with Charlie Parker in mind, that might just briefly set a listener's teeth on edge who wasn't attuned to the way of jazz. 'Fables of Faubus' is another of Mingus's immortal standards: a brilliantly restrained product of the man's lifelong frustration and anger with the inequities of society. In this case, his ire was channelled towards the segregationist governor of Alabama, Orval E. Faubus. The 'E' presumably didn't stand for the education and eloquence of Mingus's piece.
The overtly down-home bluesy 'Pussy Cat Dues' echoes the minor-key sound of 'Faubus' and, as with the opening track, you keep expecting a Pentecostal congregation to put their hands together and get seriously upset. Among the ensemble playing, there's a brief but emphatic solo by another longstanding sideman, Booker Ervin, whose name always sounds suitably ministerial.
The rollicking final track harks back to the cradle of jazz itself, the unique musical melting pot of New Orleans. 'Jelly Roll' is Mingus's jaunty tribute to the world of bordellos and marching bands and the rolling piano music of Ferdinand 'Jelly Roll' Morton. It's a lovely upbeat way to end a jazz masterpiece.
There's a photo of its composer on the back of my copy looking genial and happy. I would imagine that Mingus Ah Um appeased the devilish little perfectionist that nagged away inside his soul. Perhaps the 4M standard should be re-phrased as marvellous muscular melodic music. Mingus's bands always consistently punched above their weight and, of all his many great albums, Ah Um is the one that consistently delivers blow after knock-out blow.