The cold has arrived at last and our unnaturally mild protracted autumn has succumbed appropriately to winter. The cold means that the flies have stopped clustering in the apex of the mezzanine ceiling and my ears are no longer assaulted by the sound of a squadron of Stukas circling a civilian target. Ofttimes the innocent civilian was I, sitting here at my desk, contemplating a blank screen or tapping out rhythms on the keyboard –to be struck every now and then by a dying fly that would spin crazily like a break-dancer until welcome death intervened.
So now the wood burner is burning, as it should be, after a long period of unseasonal redundancy. The 20 degree plus temperatures we experienced earlier in the month confirmed that all is not well with the world. And so it came to pass.
October came and went in a blur of late-blooming work. After many fallow months, three concurrent e-learning projects converged in a level of activity that blurred my computer screen. A good job, therefore, that I came back from my trip to England with new pairs of glasses from Specsavers. My failing eyes just can't afford to wait for the kind of far-off appointments in which French opthalmos specialise.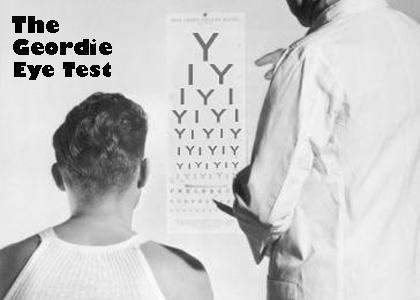 Typical of Britain's modern multi-cultural society, my optician was a Greco-Belgian who spoke perfect English. She told me that she'd met another Sampson on Crete and that my surname suggested Viking origins. I never knew that; I always simply figured that I was a descendant of some son of Sam or Samp, so it's rather nice to picture my distant ancestor at the prow of a Viking long ship slicing through the North Sea en route for the land of the Angles. Hand on sword, perhaps, and ready to leap onto the shore for some recreational rape and pillage. Our family has come a long way since.
As have opticians. Modern machines have made it all a lot quicker business than it was when I had my first eye test as a boy in London. I recall it as a disquieting scene from a film like Brazil, with a white-coated man shining a light in my eyes and making me read from wall charts through lenses that seemed to make the letters increasingly blurred. The modern eye test is a 15-minute job and my glasses were ready three days later.
I chose a suitably studious frame for reading (because my wife has always loved Arthur Miller) with a second pair for the computer. They are my first-ever vari-focal lenses, which allow me to look at the screen through one zone and look down at my notes or whatever through another. They say it takes about a month to adjust to the sensation. I'm still evidently going through the period of adjustment, because I keep looking through a zone that seems to turn rectangles into parallelograms, thereby inducing slight sensations of nausea.![](upload://kXZjWAN47zjd1hpxz7NOhl74iaL.jpg)
Still, I'm very pleased with the frames themselves, which lend me an air of a rather less youthful, less animated Jurgen Klopp, the new Liverpool manager. I don't now have to take them off in shame when someone catches me on Skype. The disquieting level of magnification, however, underlines just how much my eyesight has deteriorated since I got my first Specsaver specs about seven years ago. The first few applications made my eyeballs bulge as if on cartoon stalks. Entropy, entropy, all is entropy. The body is falling apart.
Fortunately, there's nothing yet too wrong with my distance vision. Not quite what it used to be, but then things aren't generally. But good enough to worry about the well-being of distant New Forest ponies on the golf course near Lyndhurst where I went with my brother on the Saturday of the rugby World Cup final. As if golf weren't a difficult enough game without having to worry about hitting a pony square on its rump. Or putting on a green after an equine troop has trudged all over the playing surface.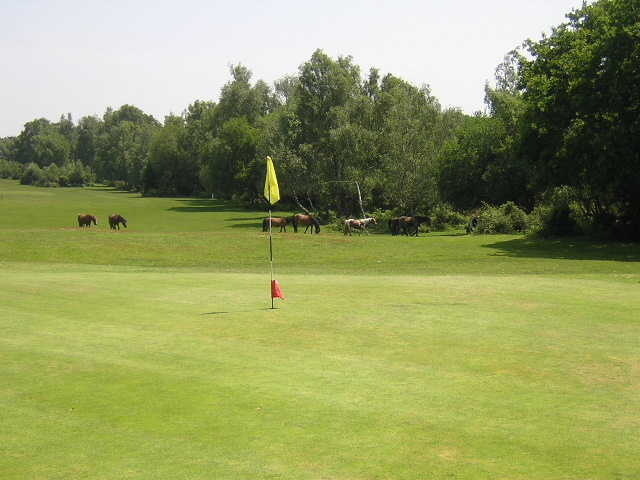 My brother, who must have been a horse in a previous incarnation, reassured me that it wouldn't hurt even if I did manage to hit one. The equivalent maybe of an acorn falling on one's head (which could be quite painful given the density of an acorn allied to the speed of its descent). In any case, I needn't have worried. It was one of those occasions when I couldn't even hit the ball. Half way through the course, I worked out that I was forgetting to keep my eye on the ball and therefore lifting my head before I'd followed through. After that, I made some pleasing connections and felt a little less like topping myself.
My brother dropped me off in the centre of Southampton where I picked up my new glasses and we met up again at our father's flat in Romsey to watch together the last quarter of what was reputedly the best of all rugby finals. The All Blacks duly ran out comfortable winners and the Australians were surprisingly gracious in defeat. England was left to scratch its collective head and wonder how to harness all those resources and all that latent talent. (Get a coach from the Antipodes for a kick-off.)
Having dropped off The Daughter with friends in Sheffield, where she's currently looking for work or 'a position', The Good Wife of La Poujade Basse joined me at my father's to load the miniature Peugeot with all the clobber I'd bought in Romsey's multitude of charity shops and to head for home. The sea was like a mill pond and we ran into thick fog the following morning. All the way to Orléans. But as soon as we'd crossed the Loire, the sun broke through to light up the golden autumnal countryside.
And all was well with the world for a little while. We were reunited with our volatile Terrierdor and Daphne in turn was reunited with her two feline wards, who seemed to have doubled in size during a week away. The sun shone frequently, the temperature soared and the flies clustered noisily. And then Friday the 13th happened to remind us that all is definitely not well with this world of ours.
As with the Charlie Hebdo massacre, it all happened in and around the onzième arrondissement, where our daughter was stationed for two years of scholarly endeavour. Le Petit Cambodge is the same little restaurant just off the Canal St. Martin where we went one balmy evening in September 2001 with Marion, the girlfriend of our late friend, Olivier, who would visit his rural retreat in the Corrèze periodically for a spot of fly-fishing and other such bucolic pastimes. Marion put us up for the night in her tiny apartment under the roof of a typical turn-of-the-20th-century town house. The next day, we were due to fly to Phoenix Arizona to visit Debs' older sister, Lou.![](upload://qKAXtpdQax5YyjYYyPPPbSESFgY.jpg)
It was soon after 9/11 and we were all feeling a little uneasy about flying in a machine that could be commandeered by fanatics. But we had a lovely time that evening, commemorated by a drawing our daughter made on her paper place-mat. Le poisson qui suit toujours, she called it. She gave it to Marion to give to Olivier and, being an artist, Olivier scanned it into his computer, added colour and turned it into a work of art. The fish that always follows you is now framed and hanging on the wall of my wife's treatment room. Olivier, alas, died a decade or so ago of a rare heart condition and we lost touch with Marion, but the fish will ever follow us and remind us of a happier moment in Le Petit Cambodge.
By rights, the awful events should have plunged us directly into darkest, deepest winter. But the unnaturally mild weather endured for a little longer: long enough to enable Bret and me to clad our side wall – the wall that takes all the weather that the elements can throw at it, the wall that resisted my last two ill-fated lime-washes – with vertical planks of Douglas fir.
It will take some getting used to, but at least we can rest easy in our blissfully comfortable bed at night. Which wasn't the case a week or so ago. My wife, who sleeps with one ear constantly on the qui vivre, woke me to ask whether I could hear something. Someone, she thought, who was trying to get into our house. Bravely (and probably semi-conscious) I volunteered to get up and take a look. Daphne was still in her basket and seemingly unperturbed. I heard nothing untoward, so I climbed back into bed and went straight back to sleep.
Still convinced that she could hear something, Debs got up and watched the last episode of Homeland we'd recorded the night before. Surely not the best choice of viewing when you're feeling a little paranoid. Eventually, she got back to sleep. The following morning, I got up (as I do), but heard a cat mewling hoarsely. I checked the spare room and our daughter's curiously tidy bedroom, but nothing. Then together we worked out where it was coming from. Otis, who is fascinated by the rise and fall of mechanical shutters, had got himself wedged between the shutter and the French window of our reading area. Poor creature had spent the night trying desperately to get into the house.
He is still fascinated by the rise and fall of shutters, but we – not he – have learnt to be more careful now when they come down at 5:30 sharp to lock in the residual warmth of the day. They don't go back up till gone eight the next morning, so Otis had better think on't. Winter's here now and will be with us till at least February of next year. This war of attrition and intermittent atrocities, though, is liable to last a lot longer than that.