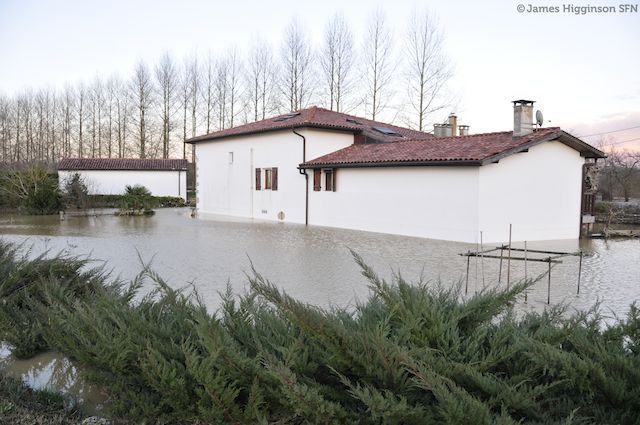 Four departments in the south west of France were hit with a flood warning on Tuesday, amid heavy rain in the region surrounding the Pyrénées mountains.
The southwestern departments of Pyrénées-Atlantique, Ariège, Haute-Garonne, and Haute-Pyrénées were placed under an orange alert for flooding and heavy rain on Tuesday.
France's national meteorological service, Météo France, imposed the second-highest available threat level at 6am on Wednesday, by which time up to 69 mm (2.7 inches) of rain had fallen in some parts in the last 24 hours.
The deluges could last until 8pm on Tuesday evening, although as of yet the orange alert is in place only until 4pm, Météo France warned.
Up to 100 mm (four inches) of rain can be expected to fall on Tuesday in the western Pyrénées and 80 mm (3.14 inches) in the upstream basin of the Garonne river.
In addition, the orange alert also warns of unusually strong winds and high waves along coastal parts of the Pyrénées-Atlantiques department.
Residents of all four departments are advised to be prudent about traveling unless where necessary, to avoid walking or driving on paths or roads that are already flooded, and to move or secure their possessions, in areas particularly susceptible to flooding.
Source http://www.thelocal.fr/