I had some mahogany I recovered from an old unit made for my Father. The unit itself was not usable and I thought it would be good to use the wood to keeps the memories going. I made a chess board for my son with some of it, and the scraps went into making this paint box.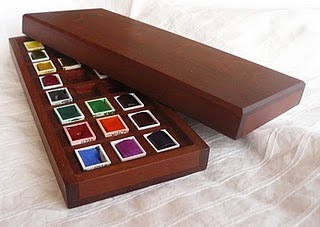 My wife has always been a fan of watercolours and one day she'll get her painting holiday to Tuscany . For the moment,she has to make do with local painting or copying objects, or places I have photographed.
Now it may look simple, and it is, but it was quite fiddly to get all the sections made for the little paint blocks. As I said in the Adirondack blog, if a job's worth doing......sorry I do go on sometimes.
The character of the wood is gorgeous and a pleasure to work with. I re-sawed the mahogany down to the thickness requred then just planed and sanded. I thought it was too small to start making dovetails or anyhting like that, so, it is basically butt and glued joints.
Hope you like it. Well the OH does anyway.