A lady who has helped in animal protection all her life now finds herself in a situation where she needs help. Ill with with terminal cancer is looking to find homes for her 5 animals.
Chats du Quercy have already found homes for 4 of her 8 cats, one more should find a home this week and one cat she may keep at it has cronic cat flu.
All are vaccinated, neutered, microchipped, and in good health.
Here they are -
Lola 12 year old female dog épagneul croisé terrier
Elle voit sur les côtés , mais pas devant
Trés angoissée par moment, dernier traitement jusqu'a fin mai, du zylkène, elle nage, elle adore qu'on lui jette un petit baton, elle le ramène, elle se sèche en se roulant sur l'herbe, aboie beaucoup quand elle rencontre un chien, je pense que cela vient de sa vue, Ne supporte pas de rester seule, elle pleure beaucoup Elle adore jouer au ballon, Elle aime manger comme nous, adore les légumes, le riz, elle mange aussi des croquettes et des boites. La seule fois ou je les laissé à un ami, elle a beaucoup pleuré et comme il est sur fauteuil roulant, la seule consolation au début a été de la garder sur ses genoux; ensuite elle partait promener avec lui; Elle dort jamais seule.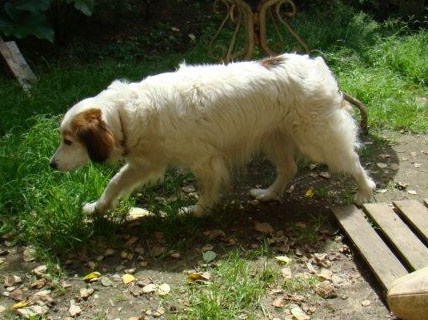 Also active, 12 year old cats Bonnie and Justine, neutered, chipped, vaccinated and who just want a quiet place to live and be cared for.