I'm not sure "graphic detail" conjures up the right ideas.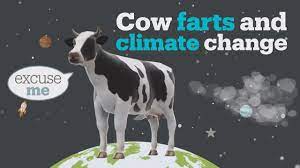 I think it's burps that are the problem. It must be difficult having three stomachs, I struggle with one

Not in our house

I would rather die in a fiery end of planet scenario than stop eating meat … selfish but that's how i feel

especially beef and duck

But there are lots of compromise positions between carrying on regardless and stopping entirely. Maybe you could eat beef less often, and help avoid the end of civilisation?
I don't think ducks are problem Peter so maybe a compromise might be to just dump the rain forrest beef

Careful what you wish for,

, personally I think condoms are the only answer

Selfish indeed. Have you mentioned this opinion to any of the younger generation?
They are going to have far more problems than those of us who, through ignorance &/or selfishness, have helped cause unatural climate change.
Ther least we can do is to make changes to our own lives that, if nothing else, show solidarity with those that follow us.
Selfish yes, even if i stopped eating meat it would make absolutely no difference whilst Germany and many other countries continue to burn coal etc.
My comment was half tongue in cheek but you appear to have lost your humour on this matter

First thing to go should be bloody McDonads

As Badger said, its for our kids that we should be trying to make a difference, no matter how small

My reference to condoms, is a major factor. There are too many of us.
I'm all for gallows humour and all that but there's not really much to be humorous about on this topic really, the fact that the majority of the world's population doesn't take the threat seriously is entirely the matter at hand so I can quite understand people not having a sense of humour about it.

This is a factor but a relatively minor one - and one that holds dangers if we focus on it too much, because it lets us off the hook of our own over-consumption and badly run economies, and places all the emphasis on younger people making sacrifices instead of the older generations that actually caused the problems.
The context here is that the richest 1% of all the people on earth are responsible for over twice as much atmospheric carbon as the poorest 50%; just 100 of the world's big multinationals are responsible for over 70% of all damaging emissions - and those who own and control these companies also have personal environmental impacts thousands of times higher than you or I (and we are relatively wealthy by world standards).
The answer is for us all to do whatever we can, not only by changing our own lifestyles, but also - most importantly - working and voting for radical changes to our economies.
The latter is also the answer to over-population incidentally. We have really robust evidence on how to reduce population humanely (more education, especially for girls; eliminate extreme poverty and make people economically secure) - just as, indeed, we know how to restore the environment. All that's lacking is the courage to act.
I'm not sure 7.5 billion is such a minor factor Geof, when you add on our footprint of voracious consumption, but there are other factors, yes, all important and none minor imo.
"(more education, especially for girls; " Sorry, I'm not sure what that means.
The more education young people - especially girls - have, the fewer children they generally choose to have ( more education means going to school, staying in school longer, going on to further education).
You'd best tell that to my university educated sister, who has 7 kids.
No Geof, this about males keeping it in their trousers or wearing condoms as well

And cheeses, yogurt, milk?
Avoiding steaks is all good, but imo it depends how the cattle is fed.
American style feed lots with ten od thousands of cattle in a small area, being fed with maize and soy - is an abomination. Gras fed cattle in areas where not much else is growing - should be OK