And me…! x

It was very very nice. I followed it up with Match of The Day like a proper Brit!! I seem to have regressed already

Lol…not regressing…just familiarity…I'd love to be there with you…my son sent me a photo from the summit of mount Snowden today…"WHERE ARE YOUR GLOVES…?!?"…I shouted by text…he'd just taken them off to take the photo…x

Where's the newspaper ?


You really have not been back to the uk for a long time!
You mean it isn't used at all now ? Not sure it would taste the same without being wrapped in newspaper with a Saveloy on the side…

They don't use newspaper around here anymore. Not sure newspaper is the same stuff as it used to be anyway. Think it's just ordinary paper.
Last time I was in a chippie - in a pretty posh part of england - they had "fake" newspaper!



Just made me realise I do miss takeaways but my waistline doesn't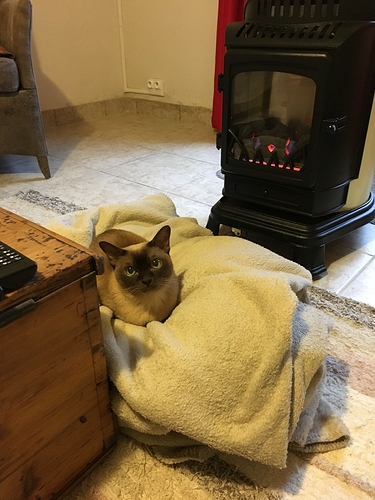 Yeah I know another cat photo! But she loves the new gas heater and seems to be under the impression it was purchased just for her benefit

She seems to be rather thin…?
Well why else would you buy it !


Cats rule …

Hope that you put a matress on it !

At least a week's calories there…shame on you !


Not me Ann - highly toned…