It is with a very heavy heart indeed that I am posting this. Due to some very difficult circumstances indeed, I am having to look at either permanantly rehoming or fostering (long or short term) my very, very special animals, who deserve a lot better than I can offer right now.

Raspberry is quite simply the best boy in the world. He is a 4.5 year old medium sized cross breed, exceptionally handsome, white with black markings. He is good & patient with cats, kids,other dogs and is great fun, friendly and very, very intelligent.He came to me from the SPA 3 years go and had been on 'death row' due to being passed by as result of a very minor disability - He had been found with a broken hind leg that had never been treated or set, so consequently the leg will not bend properly when he sits and he has a very slight limp behind. This does not affect him in any way at whatsoever and the vet confirmed that although he may develop a touch of arthritis as he gets older ( don't we all.....!) it doesn't limit him in anyway at all and he is extremely fit & active. I have no words for how special this chap is.

Fan is a 4 year old miniature poodle who has been blind from birth and is utterly delightful. She is a very brave and cheerful little soul who likes nothing better than to entertain and will attract your attention by dancing on her hind legs. She is quite remarkable in the way in which she copes with her disability, has no problems navigating her way around the house & garden ( providing you don't 'move the goalposts' by rearranging the furniture too often) and is very, very loving, wanting nothing more than to be close to you and cuddled. Again, she is very happy to be around other dogs & cats. She needs frequent grooming due to the thickness of her coat, but does not shed hair at all.

Widdle is quite delicious and probably only between 10 & 12 weeks old and was found a fortnight ago found crawling with fleas and wandering in the middle of the road. I've had no luck tracing his owners ( surprise surprise) local rescue unable to help as completely full. They advised me that he probably came from the local travellers camp and that it would not be in his best interests to try & return him. He bears a remarkable resemblance to Raspberry (Hmmm.....!!) and is now de flead, wormed and proving to be a really super little chap, very quick to learn and very playful! (He loves wrestling with Spike and all shoes, undies etc must be hidden if you don't wish to go public with your greying smalls!!) I have had an offer of a very good home for Widdle with an old friend of mine, unfortunately he lives in Lisbon, Portugal and Widdle is just too little at the moment to have the rabies vaccine.
Raspberry, Fan & Spike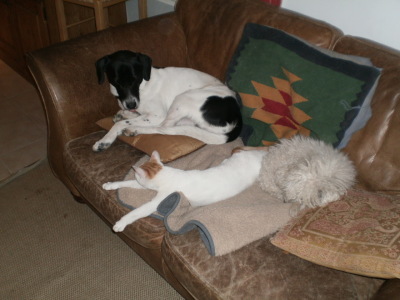 And this is Widdle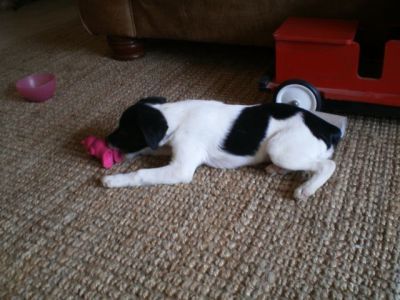 Finally Spike is a 2 year old white & ginger male cat who is as cool as a cucumber ând will happily take on all three dogs at once! Nothing fazes him, he's as happy to be outside as in and is a very laid back character indeed.

They've all co-existed happily together and could be placed individually or in pairs,with gentle, kind & committed people who wouldn't mind being kind enough to keep me posted from time to time as to how they are getting on.They are all very much loved, this is definately not a decision that has been taken lightly and I will of course be happy to provide further information if anyone can help.

A big 'thank you' to Catherine, for her kindness and understanding.