There's 127 museums to visit in France… this Saturday…
Followed by this drinking game during Eurovision in the evening

… to celebrate Liverpool beating Chelsea in the F.A. Cup Final
… to celebrate Chelsea beating Liverpool in the F.A. Cup Final






Very sporting of you.
Over 200 mins of football and no goals in open play. Extraordinary.
Geographiclly speaking I should be a Chelsea supporter. This map has 11 red dots marking places I lived in London. There are two more, off the map, at Acton and Holloway. The blue dot is Stamford Bridge.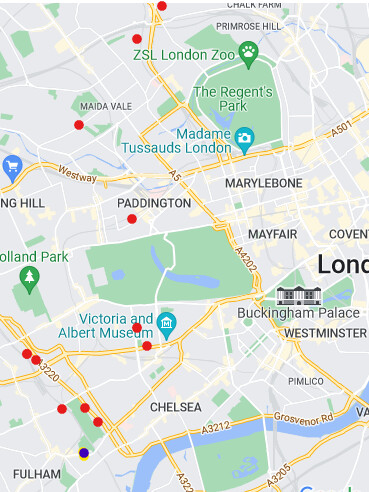 The one furthest from The Bridge is just under 6 miles away, at Fellowes Rd, Swiss Cottage. The upper left of the three nearest is Rickett St, which is the pedestrian access to the Away end - or was back in 1970/71. The other two are on Finborough Rd where residents were sent fixture lists to warn them of parking problems, until res park was extended to 9 p.m. 7/7.
I only went once - Chelsea v Spurs. 1971. The days of 'Osgood is good' and Peter Bonnetti. Stood in The Shed. Very scary.
Now for Real and the Champions' League. Living in Valencia, I went to Madrid to see L.F.C. win it , on TV in a Moroccan restaurant, the only place in Madrid not packed out with Scoucers and Spurs fans because they did not serve alcohol.
I'm thinking of doing the same, Paris on 28th.
Ongoing at present, this ends on 22 May
21/22 May
Saturday, 21 May