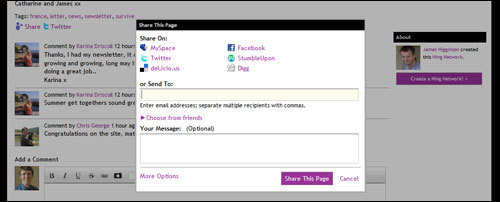 LOOKING at a few of the members on the network I notice that many have an online life in places such as Facebook, Twitter and other social networks.
Thankfully, you can highlight the blog post, photos and videos you add to the Survive France Network on these other sites in a couple of clicks, saving you time and hopefully spreading your reach and influence further.
It really is a simple thing to do, just click the "Share" link that appears beneath the item you want to share.
Up pops a window offering you the opportunity to share a link to the page on the network via email or to other members.
But if you are a member and signed in to a social network such as Facebook or Twitter, then you will have the option to send a link to your friends elsewhere, which when they click on will bring them over to the page on the Survive France Network.
Hope this helps, and if you've any questions just leave a message below.