I certainly wouldn't claim that this was The Beach Boys' finest album. Far from it. If it's consistency you're after, then one of the many endlessly summery golden greats would represent a better buy. But there's something about this curate's egg that I find very appealing. Besides, it has been with me now for a long, long time. For that reason alone, it secures my affection.
So, if not the best, then certainly a favourite. I like my flawed attempts to reach for the stars, me. It's rather like The Pretty Things' Parachute in that respect. I was talking about just that with my distant friend across the ocean only the other day: the only person I know who still values that particular album. We agreed that half of it has dated badly, while the other half remains simply magnificent.
Ditto Surf's Up. There's a fair share of dross, but there's enough wonderful Wilsonian music to warrant at least three and a half stars and a place in my heart. The surprising thing is that 'Wilsonian' means, for once, as much Carl as Brian. Dennis is there on drums throughout, but reputedly he withdrew his two projected contributions due to a family squabble over the sequencing of the second side.
The second side ends, rightly so, with Brian's exquisite title track: a remnant of the ill-fated Smile project. Anyone who has seen the film Love And Mercy will appreciate why his long lost masterpiece remained lost for so long. Paul Dano played the young Brian Wilson at the height of his creative powers, obsessing endlessly over the tiniest details of extraordinary symphonic works like 'Good Vibrations', while John Cusack played the pale shadow of the man some years later, addled by drugs and medication and haunted by voices and ghosts in the machine.![](upload://aIzK8er9Tr0A80DsDUe1XRyzrMB.jpg)
At the time when Surf's Up came out in 1971, Brian could come up with little more than an ill-fated health food shop, The Radiant Radish. You can imagine how his contemptuous cousin, Mike Love, would have reacted to that venture. By the time that Brian finally oversaw the assembly and release of Smile, it had been so long in the coming that it inevitably failed to live up to expectations. Indeed, my Wilsophilic friend, Peter Bradbrook of Sheffield 10, mixed a more coherent version in the privacy of his own sitting room.
One thing seems clear to me – and it's difficult to find any kind of clarity when faced with Van Dyke Parks' customarily opaque lyrics full of all those baroque 'columnated ruins' and 'dove nested towers' – is that the two most memorable 'movements' of Smile are 'Surf's Up' and 'Child is Father of the Man'. The two are condensed on this album's finale into just over four minutes of sheer musical and vocal ecstasy. Personally, I would have been happy if the coda of close harmonies had taken another five or six minutes to unfold.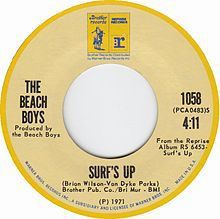 If Surf's Up consisted of more of similar quality, then it would be right up there with Sergeant Pepper in most critical Top 100 lists. Unfortunately, it doesn't. But therein, I suppose, lies a compensatory charm. The prime mover behind the album appears to have been the band's new manager of the time, Jack Rieley (who co-wrote three of the strongest cuts). In his endeavour to reanimate the band after the malaise that followed Sunflower's failure, he also suggested that the perennially back-seat brother, Carl, should be appointed Surf's Up's musical director.
Herein lies both the LP's strength and weakness. Surf's Up is less Brian Wilson as a result and more The Beach Boys. But, as is the case with Todd Rundgren's Utopian sideline, musical democracy is not necessarily the best impulse when you have a benevolently dictatorial musical genius at the controls. So, all The Beach Boys bar Dennis get their oar in and the result is a little like cinema in the days when you had to sit through the B-movie to get to the main feature.
In which case, Side 1 is very much the B-movie, made on the cheap with pulp plot and wooden actors. Certainly cousin Mike's 'Student Demonstration Time': a contemporary metamorphosis of Lieber and Stoller's 'Riot in Cell Block #9' that only goes to prove that, once they'd done their surfing, the boys couldn't rock 'n' roll with much conviction.
It's a slightly harsh judgement on earnest Al Jardine, who contributes three songs that don't really stick in the mind: one with Mike Love, 'Don't Go Near the Water', which reflects the album's ecological mood in a clumsy sort of way ('Toothpaste and soap will make our oceans a bubble bath/So let's avoid an ecological aftermath'); the other two with lyrics by a certain Gary Winfrey: Side 1's paean to pedicures, 'Take a Load Off Your Feet', and Side 2's rather more edifying 'Looking at Tomorrow (A Welfare Song)'.
The rest is plain sailing. Bruce Johnston's 'Disney Girls (1957)' on Side 1 is both charming and convincing in an early Beach Boys kind of way. Brother Carl also reveals himself as a songwriter of surprising distinction. With lyrics by their manager, 'Long Promised Road' on Side 1 was good enough to have been released as a single. Beginning the second side and sometimes described a little condescendingly as a 'mood piece', 'Feel Flows' with its gently pulsing Moog synthesizer and Carl's fuzz guitar is worthy of big brother.
And then you come to the soft centre that makes the album ultimately such a treat. Brian's three contributions begin with 'A Day in the Life of a Tree': a lovely if depressing song of acid rain and pollution with vocals by Van Dyke Parks backed by Brian on harmonium. It is followed by ''Til I Die'. Fleshed out with vibes and Hammond organ, it's far too short at barely two and a half minutes for such a beautiful song.
Finally, you are left to savour the flavour of the title track: surely up there with the likes of such masterpieces from the pen and troubled mind of Brian Wilson as 'In My Room', 'Caroline No', 'Good Vibrations' and 'Sail on Sailor' (to name but four). Now that I think of it, in fact, the song is so good that it lifts this uneven but perennially enjoyable album from three and a half stars to four.