Is yours on the list?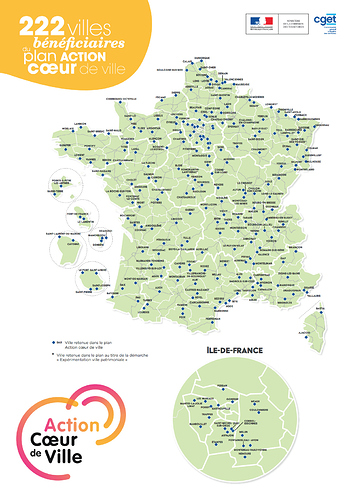 http://www.cohesion-territoires.gouv.fr/IMG/pdf/2018.03.27_carte_villes-retenues.pdf
Yes. Macon is our major shopping centre. We can imagine the traffic chaos that this will cause.
Vire in Calvados is a 15 minute drive from home, a very unpretentious and likeable medium-sized town known mainly as the home of la véritable andouille de Vire, or tripe sausage. Nothing beats it, perhaps because there is nothing on earth like it. It's not cheap either.
Vire is deservedly on the list and will benefit from a leg up, I think. Flers in nearby Orne is about 22km from us and is another nice but unassuming Normandy town on the list of favoured towns, a bit of a cut above Vire in its rather arty demographic, Vire being more of a rough diamond.
Both town centres are struggling to throb with much vitality or attract investment, but do try hard to put on a good face and welcome incomers, so I'm glad they got a look-in and wish them well.
If that's where andouillette comes from, they should knock the place down.
Well Mark, you will recall Vire was knocked flat and tens of thousands died in Normandy during WW2, so doing it again over a local delicacy might be misconstrued as OTT.
Andouillettes are dinky little replicas of la véritable andouille de Vire, although they may be suited to people of more delicate dispositions… mais chacun a son goût


What sort of make over I wonder?
A 5 billion Euro pot has been put aside to help smaller towns so I guess each one will have to come up with ideas/projects and apply for funds, a bit like National Lottery funding in the UK.
think stella posted this a few weeks ago. very interesting alas we are not on the list
Yes, Harry… I started it off with the 22 towns in Sud Ouest and the thread went countrywide…
Brlliant news for Libourn and Bergerac…we are close to both.