Never mind the renovation project, I'm switching all my efforts onto building an ark...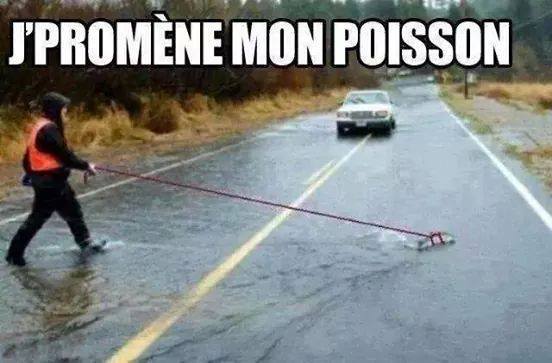 Following on from the devastation last week in Herault, yesterday once again the sky fell upon us and has had everyone looking in shock and horror at the images appearing of villages and towns including our herault capital of Montpellier being well and truly flooded. In fact it was an absolute record that on the 29 september 253mm of rain fell in less than 3 hours - that's 4 months worth of rain!
In Vias more than 350 people were evacuated at 1am from campsites. Montagnac and St Pargoire which are close to us were severely affected.
Personally I set off yesterday morning under a little drizzle to go to Beziers, by the time I had reached our next village Roujan, the heavens had opened and I could barely see the road or in front of me. The car was making waves higher than the roofline and I wisely did a U turn and returned home slowly.
Yesterday was an important day for us as we poured our new concrete floor of our current garage, future living room. I had images all night of the concrete being washed away. Last night the storm blew, thrashed and cracked above us, it rained and it poured...somewhere the old man was snoring but certainly not in my house...no I was listening to the sound of the storm wondering just how high the water level was getting in the storm drain which passes at the end of our garden.
An old man in the village once told me the tale of water being up to the bridge…now that would surely have flushed us out of our beds…but hopefully due to the storm and flood measures having been introduced in recent decades I keep my fingers and toes crossed that it never reaches that level again.
We don't live on the edge of a river...but many in our area do. Here are some pictures of the floods
Au rond-point de l'aéroport de Montpellier.LYDIE BOURDON - Midi Libre
Lattes (Hérault) sous les eaux lundi soir.LAURENT BERTAZZO - Midi Libre
This is where we go for our kine appointments...glad we don't have one tomorrow!
Montagnac (Hérault) sous les eaux ce lundi 29 septembre.NICOLAS PRADEILLES Midi-Libre
I know I made the right decision to turn around...many of the roads round here looked like this:
Les effets des intempéries à Vailhauquès (Hérault). Midi Libre LAURENT
I am pleased to say that despite all my concerns...our handprints were still there in our garage and will be for many a year to come...