You mean it has all gone down the proverbial

I had my pupils discussing this in class today, too many privileged people think it's a joke

There's a useful UK charity at toilet.twinning.org which highlights this global problem and helps collect funding for better sanitary provision in poor countries. Very worthwhile.
Yes, it's no joke alright. One of the most distressing images that has stuck in my mind over the years is that of seeing the families living by the railway lines out of the big Indian cities. Children playing in open sewers and people defecating by the railway tracks. Horrible.
My late wife was a voracious reader and her favourite book was A Fine Balance by Rohinton Mistry. She felt it gave a good insight into Indian life.
Mind you, it was curious on our trip over recently to regularly see men urinating by the roadside in France - sure it wasn't for lack of toilets though.
An old French tradition. Anyway, you shouldn't have been looking


Couldn't see a thing.
this topic has been on my mind on and off, since I posted it yesterday.
Back in the day… out on a "Date"…I would rate our local Pubs according to the condition of the "Ladies"… if the toilet was dodgy/awful… I never went to that Pub again… and there was always somewhere better…
Now, reading this article and thinking about all those folk who have no "Ladies" nice or otherwise… it really brings the seriousness of their situation home to me.
I did exactly that with cafés etc when my children were small, with 5 daughters loos are particularly important

.
I remember when I was a child there was a change in France, in probably the late 70s, when you might when stopping en route somewhere be relatively sure of having a lavatory you could sit rather than the old kind of toilettes à la turque (as opposed to the less horrible more modern tàlt you still find).
The gents loos in many town centre pubs in the 1980s were horrific. Fortunately, I always used to wear Doc Martens so standing in several millimetres of dilute uric acid wasn't a problem.
Sadly, those folk without proper sanitation these days … more than likely do not have decent/protective footwear… either.
Ahhhh one of my biggest bete noires in France ! I was yet again thinking of this subject just this morning. I just can't understand why a country like France that is absolutely crawling with tourists as well as all the locals moving around, and with some distances in the countryside, do not have a system of public toilets. I was caught short the other day on an unexpectedly long trip to collect son and drop at work. I stopped somewhere fairly out in the middle of nowhere with a nice looking, view blocking, thicket. In I went and OMG I obviously wasn't the first in there, toilet paper and remains every where. This is just one tiny road in the boonies of Dordogne so there must be thousands of these all over the country. It is SO disgusting and totally unnecessary. In Australia even on very remote roads you will come across public compostable toilets at reasonable intervals (and there are signs telling you how far to the next few). They are very simple built in stainless steel (nothing to be nicked I guess!) with water from a tank and a solar panel for the lights. We have a tiny population, even more so in relation to distances, so why on earth are we able to do stuff like that and yet here there are no efforts at all made. They are usually pretty clean, I think people are respectful in general and I guess the local council pops by once a week or so for a clean. France has such wonderful P areas I just don't understand why they can't put a toilet in them, particularly here where we have so many tourists. My mornings thoughts were prompted by a layby (very pleasant, trees etc) off the N21 between Perigueux and Bergerac that is closed for I think 2 or 3 months for renovations. I thought 'yay perhaps they will put a toilet in' and the slapped myself - of course they won't!!!
I've never been but it just breaks my heart seeing people living like that


Here is exactly how a lot of them look: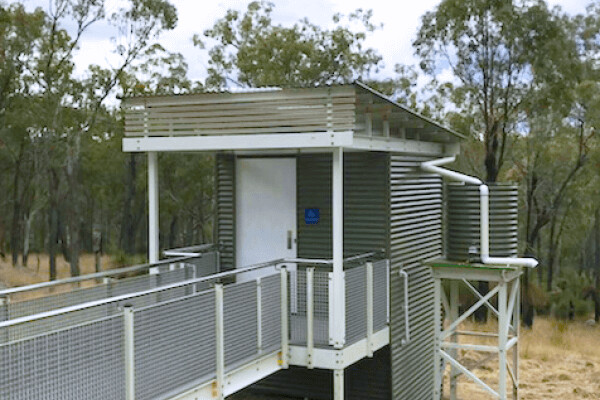 They are nearly always up a ramp, presumably for the compost space underneath. Just looking of this saw some of these companies doing good work getting these low tech, no water solutions up to communities in Timor etc who have had very poor sanitation.
Looks like a modern version of an Indian village toilet, up on stilts so the pigs can get underneath to recycle everything, rule #1, never eat pork in India!
There seem to be quite a few composting toilets in Canada too, though they were always quite 'fragrant'. We've been generally impressed with the quality of loos at peage 'aires' but less so elsewhere.
Our Canadian relatives had a cabin on Six-mile Lake.
No indoor toilet … just a very small shack, fitted with a wooden bench and the usual uncomfortable hole. This setup was placed over a deeep narrow fissure in the rocks.
No window or light, so once the door was shut, it was quite a struggle with clothing while clutching a torch… and fighting off the mosquitoes and whatever else decided to take a bite…

EDIT: as the only water supply was from the lake, just a few feet from the cabin… I made sure the water was boiled and boiled… before using it for drinks or cooking… my aunt and the cousins couldn't understand why I was doing this…
Our most 'interesting' toilet experiences have been in Thailand, rather than India as one might expect. One was on the train overnight between Bangkok and Chiang Mai (Fungus the bogeyman would have been proud). The other was in the jungle on a trekking overnight stop at around 3.00am, fresh pineapple being a highly effective loosening agent. That one was a challenge because it was inside a breezeblock shed with corrugated roof, there being a small gap for ventillation between the wall and roof. I'd placed the paper on top of the wall in the gap, then in the glimmer from the torch managed to knock it outside - not ideal.
Happy times.

And in the spirit of 'Toilet day' I had a wonderful memory come back to me! I grew up on a sheep station in country New South Wales (about 4 hours west of Sydney). There was a huge shearing shed and adjacent shearers quarters (c 1900), back in the day shearers would move around the district farm by farm and be put up and fed. The 'dunny' was a double, with a wooden bench seat with a long drop below. As kids we often went up to stay in the shearers quarters with our friends (no mum honestly we didn't take that bottle of something from the bar and no I've not been smoking, we had a fire



). The shearing shed / quarters and dunny were all located at the top of a hill over looking the valley with the Lachlan River down below and the granite boulder covered hills rising ahead, the most incredible view, even more so at sunrise or sunset - one of the most simple toilets known to man with the most incredible view!